Parts & Labour now open in Whitechapel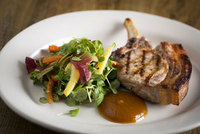 London's East End welcomes a new resident for 2015, Parts & Labour, the restaurant located within the cool and contemporary Qbic London City Hotel. Parts & Labour serves Modern British cooking within a vibrant space, featuring Scandinavian design influences. Offering all day dining, perfect for breakfast meetings, lunches, after work drinks or long dinners, Parts & Labour is an exciting new addition to the area.
The menu features a selection of small and large plates, with dishes including: Potted beef with wholegrain mustard, pickles and toast; Spiced smoked lamb ribs with pickled cucumber and dukkah; and Grilled bream with fennel, artichoke and orange. There is also a selection of salads available such as BBQ pumpkin salad with Dorset feta, pickled red onion and toasted seeds; and Roast aubergine salad with mixed grains, parsley, lemon, pomegranate and mint yogurt. Desserts include: Chocolate and pumpkin tart with cinnamon crème fraiche; and Toasted Dorset apple cake with apple cider compote and vanilla ice cream.
Channelling the Jewish heritage of the Whitechapel area, Parts & Labour also serves a few traditional Jewish dishes such as Toasted Rueben (a hot salt beef sandwich, with sauerkraut and Swiss cheese), Chicken soup with dumplings and Sabich (flat bread topped with egg, aubergine and salad). The breakfast menu features classic favourites such as Londoner sausage with black pudding, streaky bacon and Cornish Legbar eggs; and French toast with poached rhubarb alongside healthy options such as Smashed avocado on toasted bagel with poached Clarence Court eggs .The restaurant also works with a number of local London suppliers including Hansen and Lyderson smoked salmon.
Coffee is a key focus at Parts & Labour, who believe that their coffee offering is as important as their food. The restaurant serves Extract coffee from Bristol, using a state of the art La Marzocco machine. Parts & Labour will launch a new coffee brew bar which will serve two guest, slow drip coffees on a rotating monthly basis.
Located on the ground floor of the Qbic London City Hotel, the Parts & Labour decor features bold primary colours adorning the walls, white retro tiles and brightly coloured and exposed wooden furniture. Guests can choose to lounge on arms chairs or sit at one of the larger tables perfect for groups. The lighting is a mix of spot lights and low hung lampshades.
Appealing to local Londoners as well as visitors to the Capital, Parts & Labour is set to make its mark on East London's vibrant dining scene.
For more information, visit london.qbichotels.com/en/enjoy-our-bar-and-restaurant.html
For reservations, email: reservations[at]partsandlabour.london