Ragley to host its 5th spectacular Battle Proms concert!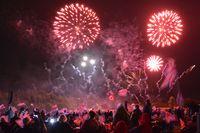 The ever popular Battle Proms Picnic Concert will return to Ragley Hall on Saturday 15 August, the 70th anniversary of V-J Day. Visitors can enjoy an exceptional evening of sublime classical music, carefully choreographed Spitfire and cavalry displays, dramatic cannon fire and a stunning firework finale overlooking the lake.
The Battle Proms takes much of its historical inspiration from the Napoleonic wars, which came to a conclusion 200 years ago at the Battle of Waterloo when Napoleon's rule as Emperor of the French was ended. As well as marking this 200th anniversary the Battle Proms team are also planning to celebrate 75 years since the Battle of Britain and 70 years since V-J Day, when the Second World War finally ended with the surrender of Japan on 15 August 1945. These key historical events will be marked with a number of additions to the programme including The Battle of Britain Evening Gun Salute, honouring this pivotal air campaign and end of the war itself, as the gunners herald the arrival of the Grace Spitfire with a volley of shots from a vintage 13 Pounder field gun.
Much loved TV and radio presenter, author and celebrated compère, Pam Rhodes will host the event and the Rockabellas, today's answer to The Andrews Sisters, will warm up the audience with an upbeat performance of unrivalled vintage vocals.
Later in the programme Battle Promenaders will be treated to the Battle Proms signature piece 'Beethoven's Battle Symphony', performed with the full complement of 193 live firing cannon providing a thunderous percussion! Conducted by Douglas Coombes and performed by the New English Concert Orchestra, the programme also include classics from Tchaikovsky's 1812 Overture to a finale packed with favourites such as Jerusalem, Land of Hope and Glory and Rule Britannia. Accompanying the orchestra will be soprano Denise Leigh, who will perform enchanting arias before bringing the finale to life - and the crowd to their feet – as the spectacular firework display lights up the summer sky.
Andrew Mason, Operations Manager at Ragley stated "Ragley is delighted to host yet another popular and nostalgic Battle Proms concert. With our lakeside setting, Ragley has a stunning, breath-taking location. The orchestral music, cavalry displays and cannon fire come together to create a truly unique event culminating in an amazing fireworks display".
Gates open at 4.00pm, entertainment begins from 5.50pm and the event finishes at 10.00pm. Adult tickets cost £33 if booked before 30 April, £36 if booked from 1 May until the day before the concert and £40 on the day of concert (subject to availability). Tickets for children aged 5 to 15 cost £17 (children aged 4 and under are free). Advance group bookings of 10 or more qualify for a £2 reduction per ticket.
For more information and to book tickets, visit battleproms.com. For more information on Ragley Hall & Gardens, visit ragley.co.uk.