Opt for two wheels to see Mallorca at its best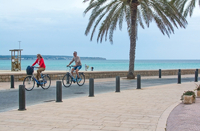 From domestic travellers to visitors from overseas, it seems that everyone is planning to enjoy a spot of Spanish sunshine this year. According to the Alliance for Tourism Excellence (Exceltur), GDP was up 3.5% during Q1 2015, due mainly to a 10% rise in demand from Spanish travellers during January and February.
Q1 2015 also saw record visitor numbers from overseas, with Spain enjoying some 10.6 million visitors during the quarter – an increase of 5.3% according to the Ministry of Industry, Energy and Tourism. The Brits led the charge to the sunshine, with 2.1 million heading to Spain between January and March, up 9.5% from the previous year.
Tourism is a crucial element of the Spanish economy. Based on the World Travel and Tourism Council's Travel and Tourism Economic Impact 2015 Spain guide, it directly contributed 5.6% of GDP during 2014 (€58.8 billion), with this figure forecast to rise by 3.3% during 2015.
Naturally, some areas benefit more from visitor numbers than others and the Balearic Island of Mallorca is a perfect case in point. Figures from Spanish property portal Kyero.com illustrate how much difference tourist appeal can make in terms of demand for property. The Kyero Enquiry Report for Q1 2015 showed that for the nation as a whole, those looking to purchase property searched mainly in the €50-100k price bracket, yet on Mallorca the majority of enquiries were for properties costing €150-200k.
Marc Pritchard, Sales and Marketing Director of leading Spanish homebuilder Taylor Wimpey Espana and resident of Mallorca, comments,
"Mallorca has a thriving property sector and tourism is definitely a key driver of the market here. Second homes on Mallorca are highly prized, particularly by buyers from the UK, Germany and the Nordic countries."
Not only does Mallorca enjoy stunning coastal scenery and a wealth of water-based activities, from cave tours to wind-sailing, but it also has a rich sporting presence for those who prefer not to get their feet wet. Cycling is particularly popular on the island, as it is in many European destinations. In fact, figures released in 2013 from the European Cyclists' Federation (ECF) estimated that the impact of cycling in the EU reached well in excess of $265 billion per year, or more than $530 for every person living in the EU.
According to the ECF, cycling is excellent news for local economies. A visitor on a bike spends an average of £25 per day on local food and services, compared to just £7.30 spent by visitors in cars. On Mallorca, where cycling tourists increased from 100,000 in 2013 to 150,000 in 2014, their expenditure makes a serious impact.
Mallorca is increasingly being seen as one of the best destinations in Europe for cycling holidays. From extensive planes to challenging mountain terrains, the island offers cyclists every gradient they could wish for, along a network of roads that are in excellent condition and have minimal car traffic. Amateurs coast along in the sunshine, toning and tanning at the same time, while pros flock to the 'Vuelta a Mallorca' every February as part of their annual training plan for the world's major competitions. From shops to hotels, Mallorca has a whole host of attractions dedicated to those who opt to enjoy life on two wheels.
"Mallorca is a fantastic destination for keen cyclists," confirms Taylor Wimpey Espana's Marc Pritchard, "And cycling is an increasingly important contributor to the island's economy. The industry has boomed in recent years and looks set to carry on doing so for the foreseeable future."
Marc particularly recommends the Porto Cristo area as a base for those looking to explore the island by bike. The gently rolling landscape is perfect for cycling enthusiasts looking to zoom around and the stunning beaches provide the perfect spot for a refreshing dip in the sea to soothe tired muscles in the ultimate salt bath. Taylor Wimpey Espana's Cala Anguila II development there features two bedroom, two bathroom apartments from €245,000. The coves of Cala Anguila, Cala Romántica and Cala Mandía are within easy reach, while the resort also enjoys its own pool and verdant grounds.
For more information, visit taylorwimpeyspain.com.