Social Wine & Tapas opens on James Street in Marylebone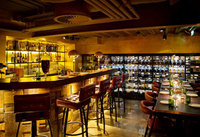 The Social Company and executive sommelier, Laure Patry, has opened Social Wine & Tapas on James Street in Marylebone, London. The 70 cover bar and restaurant offers quality, rare and fine wines accessibly priced alongside a tapas and snacks menu, created by head chef Frankie Van Loo (formerly Social Eating House). The venture incorporates a sizable wine shop.
Set over two floors, the ground floor houses the wine shop and tapas bar, which has an open kitchen with a dining counter; banquet seating for up to 9 covers, and an elevated wine tasting table for 10. A narrow staircase leads to a basement wine bar, with additional seating, a second tasting area, a corner bar and a preparation kitchen counter.
Laure Patry, who has worked with Jason Atherton for over 10 years, heads up Social Wine & Tapas and has been an instrumental part of all the restaurants opened by The Social Company. She has created a dynamic wine offering with an accessible list of wines from around the world, whilst also championing small growers. Prestigious vintages and fine wines are available through the use of the Coravin system. Notably, all serving staff are sommeliers, offering each customer a personable and informed experience when ordering both food and wine.
Together Jason Atherton and head chef Frankie Van Loo have developed a menu of modern tapas style dishes, made with the best of British produce and reflecting London's vibrant food and drink scene. Dishes on the menu include 'jamon, Manchego and truffle toastie', 'heirloom tomato salad with burrata, basil and gazpacho dressing', 'seafood and rabbit Spanish rice' and 'creme Catalan with orange'. In addition to the tapas menu, a seasonally changing selection of cheeses and charcuterie are served via the basement kitchen counter.
Jason Atherton worked closely with award winning designers, Russell Sage Studios, to create an urban and contemporary interior with metallic finishes throughout. The walls are adorned with copper artwork and an industrial chandelier is the focal point at the entrance to Social Wine & Tapas. On the ground floor, tables are deep polished wood, with chairs and banquet seating in green polished leather, whilst at basement level tables are timber with chairs upholstered in red leather. Lighting in the basement space creates a glimmering room by night, with bespoke wall lights made from an original 1920s theatre chandelier.
The Social Wine Shop on the ground floor has trained sommeliers on hand at all times to offer tastings and guide the buyer. In addition, the shop also stocks glassware, Coravin wine systems and wine accessories. Social Wine & Tapas is open seven days a week, from midday to late (the wine shop is open at an earlier time of 10am), and operates a no reservations policy.
While Social Wine & Tapas will be the sixth London site for Jason Atherton, it is a notable addition to his restaurant group where wines and sommeliers will take centre stage.
W: socialwineandtapas.com