Spanish real estate in depth - an insider's perspective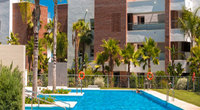 The Spanish property market crisis is over. At least that's what Banco de Espana is saying. Director of Studies José Luis Malo de Molina comments, "The adjustment of the real estate sector is, in principle, complete."
At the same time, Spain's GDP has grown for seven consecutive quarters and recently even more than expected: 0.9% in Q1 2015, according to the National Institute of Statistics (INE). Property values are also on the up, increasing by 3.3% in the last year, based on figures from the Sociedad de Tasación Residential Real Estate Trends Report for Q2 2015.
Yet the true picture of the Spanish real estate sector is far more complex than these stark facts imply. Regional variations are huge and the market remains sensitive to external influences, based on the large number of foreign buyers. The Marbella Real Estate Market Insight 2015 Report from Knight Frank, for example, reveals an increase in sales in Marbella of 89% between 2008 and 2014.
Marc Pritchard, Sales and Marketing Director of leading Spanish homebuilder Taylor Wimpey Espana, comments, "There are pockets of real success in terms of the real estate market in Spain right now, but the picture is far from consistent. It's still a delicate market and changes in FX rates, along with international politics, are likely to play a big role in how the market is shaped going forward. Buyers are focussing on coastal areas and there is a lot of money coming into Spain from overseas as foreign purchasers look to pick up bargain homes by the sea before prices rise much higher."
Taylor Wimpey Espana is the driving force behind a number of high profile new developments on the Costa del Sol. Avalon, located in one of the most sought after areas of Marbella, next to the prestigious Los Arqueros Golf course, is a charming residential complex with wide streets, a large communal pool and stunning golf and sea views. The luxury two and three bedroom apartments and penthouses are synonymous with the opulence for which the area is known, though for an extremely reasonable starting price of just €310,000.
"Avalon is a great example of market forces in action," continues Pritchard. "It shows just how much you can get for your money in Spain right now and this is precisely what foreign buyers are looking for – high spec properties that they can enjoy now but that also hold the potential for future capital growth. Many are looking at second homes that they can use for years and then eventually retire to, or else sell on at a profit many years from now."
Domestic buyers are also helping to reinvigorate the Spanish real estate market and the combined effect of this with interest from overseas investors has led Banco de Espana to predict growth of 4.2% for residential investment over the course of this year, followed by growth of 6.6% in 2016. The bank's José Luis Malo de Molina observes,
"Demand, supported by foreign purchases and, more recently, domestic interest, shows signs of stabilising."
Taylor Wimpey Espana's Marc Pritchard adds, "Although the upturn is still patchy, we are seeing more and more areas reporting price increases as each month's figures come in. It seems reasonable that by the end of this year, if not early next year, Spain will be able to report growth in every region so far as residential property is concerned. There is still fragility within the market, but with each passing month it is looking more robust."
For more information, visit taylorwimpeyspain.com.