In brands we trust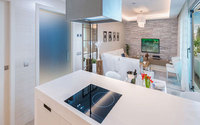 Selling property is about far more than just having nice houses on your books. This is doubly true if your buyers live in another country and you are selling off plan homes with the majority of the process conducted without any face-to-face interaction.
Yet this kind of selling relationship is the way of the future. According to Gartner, by 2020 customers will manage 85% of their relationships with enterprises without any human interaction, highlighting how essential it is to have a known and trusted brand, whichever industry you work in.
For those selling overseas real estate, this means a serious focus on web and social media presence. If you don't have a first-rate website, packed with information and images of the properties you are selling, your potential customers will have moved on to your competitors' sites before you know it. If you don't also engage appropriately with social media, it can damage your company's reputation and brand.
Companies these days need to be smart about their social media presence. A survey by Adroit Digital found that 60% of millennials in the US said that social advertising had the most influence over how they perceived a brand. Furthermore, 38% said they would be willing to leave a brand that they perceived to have bad ethics. The figures highlight the damage that one disgruntled customer with a Twitter account can do!
Marc Pritchard, Sales and Marketing Director of leading homebuilder Taylor Wimpey Espana, is well aware of the importance of his company's brand when it comes to successfully selling luxury homes in Spain. He explains,
"We've worked hard over the last 50 years to ensure that Taylor Wimpey Espana's name is synonymous with high spec, beautifully designed properties, excellent customer service and careful attention to detail. It's the reason that we were able to weather the Spanish recession and carry on building during the country's difficult years. We work on principles of honesty and trust with our customers and are running at a baseline satisfaction rate of 90% plus as a result."
The company's approach is in line with the thinking of the recent Madrid Real Estate Conference 2015. Juan Antonio Gomez-Pintado, president of the Association of Real Estate of Madrid (ASPRIMA), spoke of the responsibility that real estate entrepreneurs have to society and the need to use "innovation, transparency, energy efficiency and job creation" to ensure the future viability of the sector.
Taylor Wimpey Espana certainly ticks all of these boxes, from innovation in design through to a commitment to full compliance with the latest energy efficiency standards. At Avalon, near Marbella, traditional Mediterranean features are combined with contemporary design, resulting in an innovative development featuring some truly magnificent penthouses with terraces and pergolas. Underground parking and storage, a residents' elevator and a stunning communal pool are all included, with prices starting from €310,000.
Jade Beach, just 100 m from the seafront promenade between Puerto Banus and San Pedro de Alcantara, also features an exciting design that maximises outdoor space. The two and three bedroom apartments feature motorised sun blinds and underfloor heating, as well as top of the range sliding windows in the living room. The development has been designed to be one of the most advanced properties on the market, in terms of both energy savings and its integrated home control capabilities. Prices are from €450,000.
Taylor Wimpey Espana's approach certainly seems to be paying off. Dutch buyers Eef Meijer and Lydia Kosijungan, who purchased their property at Los Arqueros Beach last year, summed it up beautifully when they commented,
"Very good sales guy. He told us the truth, he gave honest information. No defects at delivery! Very well documentation. We are very satisfied with Taylor Wimpey. An example for many other companies."
The value to customers of buying a second home overseas through a known and trusted brand is clear: they get a high quality home, delivered on time and without the risks of using an unknown and untested company. They also receive excellent customer service at every stage of the purchase process. The customer service element alone is so important: a study from Loyalty360 found that 66% of US consumers were willing to pay more for a product if the brand delivered a positive customer experience.
Taylor Wimpey Espana's Marc Pritchard concludes, "We've put a lot of work into building a brand that people can trust. It's a process that takes time and commitment but the result is well worth it. We look forward to many more years of delivering high quality homes and making buyers' property ownership dreams come true."
For more information, visit taylorwimpeyspain.com.