Help to buy at Tonbridge's hottest new development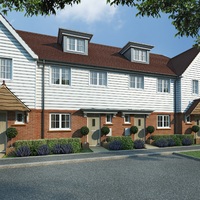 Those who long to move to Tonbridge could find it's easier than they anticipated with a visit to its latest new homes venture this Saturday (July 25).
Somerhill Green has just launched and is already proving popular with five properties snapped up 'off plan'.
Featuring everything from one-bedroom apartments to substantial five-bedroom homes, it offers something for a range of buyers and budgets. Plus, with Help to Buy equity loans available on new homes priced up to £600,000 purchasers could find that their money goes further. Redrow is inviting potential purchasers to visit the development this Saturday to discover more about the Government's flagship initiative.
Redrow sales director Rachael Baillie says: "Somerhill Green is off to a fantastic start, particularly considering we're selling the homes 'off plan'. Five eager buyers have seized the opportunity to reserve their preferred property at the earliest opportunity and we're working with other would-be homeowners keen to move here.
"We also want to ensure that potential purchasers are aware of Help to Buy and so we're holding a special event to guide visitors through the scheme. It can make a big difference to what people can afford to buy as they should only need a 5% deposit and a 75% mortgage. The remaining 20% covered by the equity loan, which is interest free for five years."
For example, a three-bedroom Wey style property usually costing £382,995 could be purchased for an initial outlay of £306,396 using Help to Buy. The lower price includes a customer deposit of £19,150 and a 75% mortgage from the purchaser's chosen lender.
Situated to the south west of Tonbridge, with direct access to the A26 and A21, Somerhill Green is ideally placed to achieve the perfect work/life balance. London can be reached in less than 40 minutes by train from the local station, while the beautiful Kent countryside is also within easy reach. Closer to home, there's a selection of schools within walking distance.
To find out more about Help to Buy, visit Somerhill Green on Tudeley Lane, this Saturday (July 25). Alternatively, see redrow.co.uk/somerhill.