Lights. Camera. Alicante!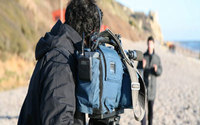 BBC's The Travel Show has been enjoying the Spanish sunshine in Alicante of late, documenting the rise of holiday home buyers on the Costa Blanca and featuring leading homebuilder Taylor Wimpey Espana.
The BBC crew was keen to tap into the local knowledge and expertise that the Taylor Wimpey Espana team has built up through their five decades of successful property development on the Spanish Costas.
The BBC crew filmed at La Vila Paradis, Taylor Wimpey Espana's beautifully landscaped development of apartments and townhouses, with views across Paraíso Beach and the sea. The gated development boasts swimming pools, private parking and communal gardens and is one of the most sought after properties on the Costa Blanca. Prices start at €260,000.
Indeed The Travel Show is the latest in a string of programmes to be filmed in Spain. Andalucía has been in the headlines for hosting the most recent season of Game of Thrones, while Mallorca is currently home to ITV's Love Island. Spain's reliable weather and excellent transport infrastructure make it a popular choice for film and TV programme makers.
For The Travel Show, Marc Pritchard, Sales and Marketing Director of Taylor Wimpey Espana, was interviewed by presenter Ade Adepitan on the subject of Spain's resurgence in home sales, particularly on the Costa Blanca. Ade is well known for his spearheading of the London 2012 Olympic/Paralympics and has now turned his hand to travel presenting.
The programme is set to air on 25 July 2015 and is expected to further boost interest in the Costa Blanca and surrounding regions. Taylor Wimpey Espana's Marc Pritchard observes,
"TV travel programmes like this are a great way to promote an area and showcase it to prospective new holiday home owners. The Costa Blanca is one of Spain's perennially popular sunspots and it's fantastic to see its success being celebrated once more. It is also great to know that Taylor Wimpey Espana's expertise is of sufficient value that our views were sought out as part of the show.
"Developments like La Vila Paradis are built with holiday home owners in mind, so they take account of everything that buyers are looking for. From easy beach access to a good range of local amenities, their location is carefully chosen, while facilities and build quality on site are second to none."
For more information, visit taylorwimpeyspain.com.