Brits ready with the readies in Spain this summer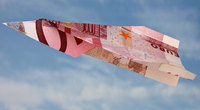 It looks like Spain's hopes for a record summer are well on the way to being realised and this tourism season it is the Brits who are ready with the readies. Official government figures for April showed that UK travellers spent in excess of €1 billion in Spain, making up 19.5% of the overall visitor spending figure of €5.155 billion.
In May, the spending continued, with 6.5 million overseas visitors spending €5.89 billion – a record-breaking total and a leap of 11.8% on the previous year, according to the Ministry of Industry, Energy and Tourism. Visitors from the UK made up 22% of the total to the end of May, with France and Germany also making up significant proportions of the market.
Many of those travellers are regular visitors to Spain, which is a popular destination for second homes, particularly amongst British buyers. Marc Pritchard, Sales and Marketing Director of leading homebuilder Taylor Wimpey Espana, comments,
"Spain offers British buyers everything they are looking for from a holiday home location – it's a short flight from the UK, the weather is fantastic, there are more Blue Flag beaches here than anywhere else in the world and the cost of living is low compared to the UK. It's a winning combination, particularly with pounds stretching even further thanks the exchange rate at present."
Nor is it just the Brits who are buoying up the Spanish property market. Figures from the Ministry of Development show that non-Spaniards accounted for 16.93% of all properties bought in Spain during Q1 2015, a rise of 17.2% over the Q1 2014 figure. Areas like the Costa Blanca, in Alicante, top the list of popular destinations, while Mallorca also attracts a large share of overseas buyers each year.
In terms of visitor numbers, Palma airport on the Balearic Island of Mallorca is the third busiest in Spain, accommodating more than 23 million passengers in 2014, according to ENAIRE (formerly Aena) statistics.
Mallorca is a long-time favourite with British and German visitors with one of the area's most popular locations being Porto Cristo, with its pretty marina, wide expanses of golden sand and plentiful shopping and dining options.
Taylor Wimpey Espana currently has two key-ready developments in the Porto Cristo area. Cala Magrana III has just two two-bedroom apartments left, which are available for €220,000 as part of an end of season offer. Nearby Cala Anguila II also has only a few apartments left, with two-beds starting at €230,000. Both developments include delightful communal pools, lush gardens and easy access to Cala Anguila beach and nearby golf courses.
"Many buyers are seeing this as the ideal time to purchase Spanish property," continues Marc Pritchard, "And our Mallorca developments have been incredibly popular. Over 50% of our apartments at Cala Anguila with direct access to the beach were sold off plan in just six months. It's excellent news for the Spanish economy, as is the promising summer that looks to be in store in terms of visitor numbers and spending. There are a lot of signs around right now – economic indicators, unemployment figures and so forth – that the Spanish economy is undergoing a serious recovery, so buyers want to pick up properties now in order to enjoy capital gains in the coming years. And with properties in places like Mallorca, they can sit back and relax in the sunshine while they watch their capital grow."
For more information, visit taylorwimpeyspain.com.