Mallorca on the up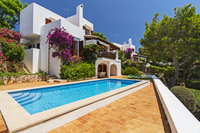 The sun continues to shine on Mallorca's real estate market this summer and according to Engel & Völkers, with 16 offices around the island, sales for this half year have increased by 27% over the same period in 2014. Confidence in the market and a flux of foreign buyers (mainly German speaking, British and Scandinavian) have fuelled the initial price increases of 10-15% for top quality properties in high demand prime locations.
Hot spots tend to be coastal locations such as Andratx in the south west of the island where, according to the latest Spanish land registry figures for 2014, Engel & Völkers dominated the market in Andratx and accounted for 70% of all transaction volume.

Around the island:

Palma the historic old town and the fashionable port areas of Portixol and Molinar apartments with outdoor space are at a premium and for these type of properties prices have increased by approximately 10% over this time last year. Entry price for a 2 bed apartment starts at 4,000€ – 9,000€ m2.
Son Vida is experiencing a boom with demand for contemporary style properties with sea views. The sale of plots has trebled since this time last year with entry price in Son Vida starting at 600.000€ to 2.500.000€ m2 and for recently constructed villas 2 – 5M€. Townhouses and smaller fincas under 1M€ in the surrounding villages close to Palma are also starting to move.
South West where over 40% of all sales are made to foreigners and here prices have increased by approximately 10% over this time last year. Main hot spots are Andratx, Bendinat, Portals and Santa Ponsa. Entry price for villas start at 4,000 – 12,000€ m2. Customers are demanding top quality, sea views and Mediterranean design and new trends include concierge serviced apartments. Predict a further 10% increase in prices for top properties. Two new luxury developments will be launched exclusively with Engel & Völkers Mallorca Southwest towards the end of this year.
West prices are stable in this area and no significant increases have been recorded over last year. Entry price here for villas start at 1M€ and this will increase to 3-6M€ if the villa has sea views or is in a frontline location. Prices for apartments start at approximately 350,000€ increasing to 550,000€ for sea views. There's increased interest in townhouses where prices start at 450,000€. The main hot spots are Soller and its Port, Fornalutx, Valldemossa and Deia.
Centre & South is having its best year in trading history with sales up by over 120% over this time last year. Prices are stable with increases of up to 10% for top locations. Entry price for a top villa with views (or frontline in the south) starts at 4-6M€. In the centre buyers are looking for a modern house in the traditional finca style and along the coast they want striking contemporary design. This year there's more interest for townhouses and apartments in the centre of the island. In the south the relatively unknown coastal area of Puig den Ros is attracting buyers.

North hot spots include Pollensa Town and the Port with increasing interest for the coastal areas of Mal Pas and Alcanada. Entry prices for a villa range from 1.5 – 5M €. Now the apartment market is now selling well with a slight increase of 5% over this time last year ranging from 4,000 – 11,000€ m2. Buyers want quality and frontline positions. Prices predicated to increase by 10% in 2016.
North East prices are stable here with the lower end of the market selling well for properties under 500,000€. Buyers are looking for bargains and specifically for fincas and townhouses which are less expensive here in comparison to other areas closer to Palma.
South East the sales picture is similar to this time last year with prices remaining stable. The area continues to represent good value. Here, the entry price for a 2 bedroom apartment is around 250,000€ and from 850,000€ for a villa. Investors are currently buying a range of properties from 300,000€ – 3M€.
A selection of over 2,500 properties are available throughout Mallorca: engelvoelkers.com/mallorca
What's on the market in Mallorca this summer?
New contemporary villa in Son Vida with views overlooking the whole of Palma. 6.9M Euros. Ref: W00DB3E
New – Mediterranean villa with eco details, sea views and top location in Puerto Andratx. 5.150M Euros. Ref: W01K2C7
Tastefully restored town house with pool in Pollensa. 535,000 Euros Ref: W022KLH
Large seafront villa on south coast Puig den Ros. 5.9M Euros. Ref: W00CNG2
Exclusive stylish contemporary villa with best views across Port Soller. 1.58M Euros. Ref: W0223O6
Restored old town penthouse apartment with views across the city. 4M Euros Ref: W021QX7
Stylish town house with patio in San Lorenzo (north east) 449,000 Euros. Ref: W01G1GE
Charming villa in Cala D'Or in privileged seafront position with private access to the sea. 1.475M Euros