UK camping holidays for grown ups this September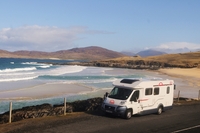 For those whose children have fled the nest or just want to enjoy some peace and quiet, a campervan holiday in September gives grownups the freedom and flexibility to create their own child free getaway. Bunk Campers are offering campervan hire from their network of depots throughout the UK & Ireland from £75 per day throughout September.
With self-catering transport and accommodation in one, couples can break away from the hustle and bustle of city life and spend time rejuvenating with fun filled experiences in their camper. From compact camping cars to VW Campervans to luxury motorhomes, Bunk Campers offer a range of campervans and motorhomes to suit all tastes and budgets. Couples can wake up to fantastic views of the countryside - stop, shop and cook along the way in their 'home on wheels'.
All Bunk Campers come equipped with beds, gas hob for cooking, sinks, fridge/freezer, dining table, heating & electricity (Shower and toilet in luxury models). Prices start from £75 per day from pick up points across the UK & Ireland.
Trip ideas:
Get off the beaten track – Pick up a campervan from Bunk Campers Edinburgh depot, tour the Malt Whisky trail sampling some of Scotland's finest whisky wild camping in the Scottish Highland's and Islands.
English South Coast road trip – Hire a campervan from Bunk Campers London Gatwick depot and visit the picturesque seaside towns and rolling surf in Cornwall and Devon.
Wild Atlantic Way discovery – Drive off into the sunset along Ireland's West coast and enjoy 2000 km of unspoilt coastline and stunning cliffs.
To book:
Book online at bunkcampers.com
Established in 2007, Bunk Campers are one of the UK & Ireland's largest campervan rental companies with a fleet that is 100% company owned. Starting with rental depots in Belfast and Dublin they expanded into the UK market in 2012 with the opening of Edinburgh & Glasgow depots followed by London Gatwick in 2014. Bunk Campers was established by husband and wife team, Keith Charlton and Louise Corken. Inspired by their travels in Australia and New Zealand, they returned and set up the campervan hire business in 2007.