Pasta con Passione - Spaghetti House celebrates its 60th birthday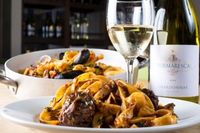 Celebrating 60 years of love for pasta and all things Italian, Spaghetti House marks its 60th birthday this September with some very special treats.
On 6 September, the day the first Spaghetti House on Goodge Street opened its doors, prices go back to those of 1955 for one day only, when two iconic pasta dishes, Spaghetti Bolognese and Spaghetti Pomodoro will be offered to guests at 60 pence for a full portion. The offer is available all day, subject to booking and availability, with a maximum of 6 guests per booking. This year, 6 September falls on a Sunday.
From Monday 7 September to Sunday 18 October, Spaghetti House serves up two classic, Italian regional dishes re-interpreted with a twist. Amatriciana – a sauce usually made with pancetta, chilli and pecorino, is given a coastal touch and presented as Caserecce Amatriciana di Mare – caserecce pasta with sautéed palourde clams, Shetland mussels, tiger prawns, calamari & pancetta, tomato, garlic, red chilli and parsley. Available at £15.95 for a single portion of at £25 for two to share. Fettuccine con Polpettine – the classic pasta with meatballs, is glammed up with venison to become Fettuccine con Polpettine di Cervo – with seasonal wild mushrooms, a rich tomato & game sauce and drizzled with truffle oil. Available at £13.75 for a single portion or at £20 for two to share.
To perfectly complement these dishes, Spaghetti House recommends the Puglia white wine Tormaresca Chardonnay IGT or the red Tormaresca Trentangeli Castel del Monte from the house of Antinori. Spaghetti House has been serving the Antinori wines since it opened the doors of its first restaurant in Fitzrovia's Goodge Street, in the heart of London.
From September to November, guests visiting Spaghetti House will also be able to enter a competition to 'Win a 3 Day Break in Puglia' with a visit to the renowned Antinori's Tormaresca winery in the Castel del Monte area. A unique piece of medieval military architecture, Castel del Monte is a blend of elements from classical antiquity, the Islamic Orient and north European Cistercian Gothic, a true 'must see' place. The break for two people includes flights from London to Bari, a hired car, a personalised wine tasting at the Tormaresca winery and a stay at the Hotel Covo dei Saraceni on the stunning Polignano al Mare coast.
In the run up to the celebrations, Spaghetti House has been inviting guests, past and present, to send their comments, pictures and memories over the last six decades by logging into a dedicated page on their website http://www.spaghettihouse.co.uk/memories/
How it all began…..
A success story from the beginning, Spaghetti House continues to evolve, in locations spanning the high street, the London urban villages and a retail centre at Westfield London.
Based on friendship, family, a love of good Italian food and entrepreneurial flair, it all started when two talented Northern Italians –Simone Lavarini and Lorenzo Fraquelli – opened their first, now famous Spaghetti House in London's Goodge Street. Originally a house, initially only the ground floor served food, and the venue perfectly fitted the founders' vision of inviting people to their home rather than to a restaurant, with a true Italian welcome, to eat genuine Italian food. Today the original Spaghetti House is still open and operates from all of its four floors. Spaghetti House was, without doubt, the forerunner of Italian restaurants in the 50's and 60's – and although at that time nobody talked about 'Mediterranean diet' – this is exactly what it served, and still does.
With the kitchen at the heart of the home, Spaghetti House chefs cook only from fresh ingredients, many of which are locally sourced. They bring simple, flavoursome dishes to the menu from the founding family's original recipes to new creations such as Panciotti in Guazzetto – fresh pasta parcels filled with scallops, crab and prawns.
Now in its second generation, still family run and employing over 300 people, the 11 Spaghetti House restaurants continue to welcome guests in true Italian style.
W: spaghettihouse.co.uk