Australia's best-kept ecotourism secrets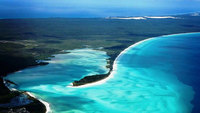 Boasting miles of beautiful Pacific and Indian Ocean coastline and a huge variety of landscapes, flora and fauna, Australia is a nature lover's paradise – and thankfully, there are more and more ways to enjoy it sustainably. Though Australia might not be the first place that springs to mind when you think of ecotourism destinations, the sector is expanding rapidly - at three times the rate of tourism as a whole, according to recent estimates! Whether it's camping in the forest or five-star luxury you're after, Australia offer sustainable travel experiences for all interests and ages. Here are four of the best hidden gems.
Fraser Island
At over 123 km in length and 22 km wide at its widest point, the unbelievably beautiful Fraser Island (pictured above) is the largest sand island in the world. Not surprisingly, the island constitutes a much-valued part of Australia's natural and cultural heritage and is protected to ensure that visitors can enjoy it for generations to come. With magnificent sand dunes and sand cliffs, ancient rainforests, endless white beaches and over 100 freshwater lakes, this is one ecotourism destination that must be seen to be believed.
Lizard Island
Lizard Island (pictured below) is the northernmost island resort on the Great Barrier Reef in Queensland and is certified as an Australian ecotourism destination by the non-profit organisation Ecotourism Australia, which is dedicated to recognising and promoting genuine ecotourism providers. Lizard Island beaches are seriously breathtaking (even by Australian standards) and the island offers plenty of interesting eco-friendly activities, including guided walks and tours of the Lizard Island Research Station. Visitors can witness different natural wonders in every single month of the year – January is great for catching glimpses of the island's many fascinating amphibians, while June is ideal for whale and dolphin sightings and November offers the chance to see green, loggerhead and hawksbill turtles grazing along the beaches.
Freycinet Eco Retreat, Tasmania
Freycinet Eco Retreat is located on Mt Paul, a 1,200-acre eco-friendly property near Coles Bay (pictured) in the Tasmanian wilderness. It offers accommodation in a number of privately situated eco-cabins and eco-studios, all of which are low-impact green constructions with stunning views of the water. Pay a visit and discover why guests return again and again. Need a way to get there? Why not think about buying a second hand car from Gumtree and selling it on again after your holiday – it's the ideal way to get around Australia as an independent traveller.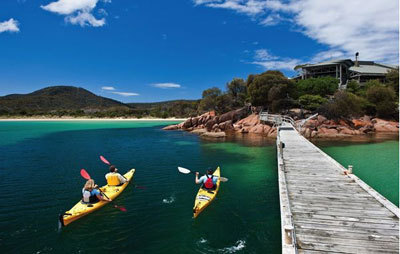 Gondwana Rainforests, New South Wales and Queensland
The Gondwana Rainforests (pictured below) are a World Heritage Site and include the most extensive areas of subtropical rainforest in the world. They are home to a high number of rare or threatened rainforest species, many of which have their origins in the Gondwana region and have changed remarkably little from their ancestors in the fossil record. The perfect destination for flora and fauna enthusiasts – make sure you bring your hiking boots!