Last chance to buy at popular Branton development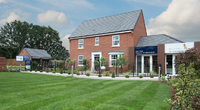 Having experienced enormous success at its Woodlands Walk development in Branton, local housebuilder David Wilson Homes has announced there are just five homes remaining for purchase at the luxury development, highlighting that the property market is thriving in the local area.
Located in a quiet village just 10 minutes away from Doncaster city centre, the houses have been selling fast, and David Wilson Homes is now urging interested buyers to take a look at the development before the remaining properties are snapped up.
With excellent transport links to nearby Sheffield and Leeds and a range of local amenities, the homes have been understandably popular with local buyers. The house types remaining include the Layton, a spacious four bed family home with bay windows and French doors offering plenty of natural light, and the Irving, a four bed home that is perfect home for families taking their next step on the property ladder.
Michael Goodwin, sales manager at David Wilson Homes Yorkshire East, commented: "Our Woodlands Walk development in Branton has been enormously popular with buyers and it's easy to see why. Located in a quiet village just ten minutes from the city centre, the development offers the perfect blend of country and city life, and is perfect for families looking to make their next move up the ladder.
"With just five homes left at the development its success highlights that the property market in the area is thriving, and with Help to Buy available we expect the remaining properties to sell fast, so urge anyone who is interested to come down to the development and have a look around."
To find out more about Woodlands Walk, visit dwh.co.uk.