Brilliant Barcelona - home to the most sought-after property in Spain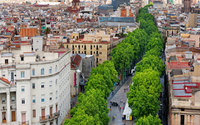 Depending on who's counting, Barcelona regularly ranks somewhere between the 10th and 25th most visited city in the world. Visitor numbers have increased vastly since the Catalonian capital hosted the Summer Olympics back in 1992, to the point where new Mayor Ada Colau is having to look at ways to limit tourist numbers in order to preserve the city's rich character.
Meanwhile, the inclusion of the Gaudi's incredible Sagrada Familia in TripAdvisor's 2015 Travellers' Choice awards for the world's top landmarks (it was the only European landmark to make the top five), demonstrates the love that visitors have for this ancient and historic city. Already in 2015 Barcelona has attracted some 7.4 million international visitors, according to the Spanish Ministry of Industry, Energy and Tourism.
But Barcelona is not just a tourist mecca – it's a bustling working city that 1.6 million inhabitants are proud to call their home. It is a rising economic star within the European community and seen as increasingly important thanks to Spain's impressive financial recovery, which has led to Harvard University predicting that Spain will be the leader of the Eurozone in 2023, enjoying an average annual GDP growth rate of 3.7%.
Martin Dell, Director of Spanish property portal Kyero.com, which lists more than 200,000 homes from 3,000 estate agents, observes,
"Barcelona consistently tops the charts when it comes to real estate prices in Spain. It's a fascinating and magnificent city, not just from an architectural standpoint, but also culturally. It blends ancient Spanish traditions and values with a hip, modern culture. The gourmet La Boqueria Market just off Las Ramblas is the perfect example – hams cured to the same recipe for centuries hang opposite stalls of bright fruit shakes made using the latest superfoods. The city is a real melting pot but with a truly authentic heart."
According to the latest Kyero Spanish House Price Index, Q2 2015, the price of the average home in Barcelona province has risen to €572,500, a staggering 243% higher than the national average. In Barcelona city, the figure rises to a record-breaking €617,000.
The Kyero.com data reveals some interesting insights into what it is that buyers are looking for from their Barcelona property. The largest share of enquiries (27%) are for properties costing between €150,000 and €250,000. Searches for two bedroom homes just beat those for three bedrooms, at 31% and 29% respectively. When it comes to property type, though, apartments win hands-down, with 89% of enquiries focusing on this type of property.
The lower half of the most popular price bracket provides property buyers with an ample choice of two and three bedroom apartments in the city, while the upper end of the price bracket is sufficient for anything up to five bedrooms.
Buyers looking to spend closer to the average property price can enjoy this stylish, four bedroom/two bathroom apartment, which benefits from an outdoor terrace, underground parking and a central location.
For further details on properties to rent and buy in Barcelona and across Spain, visit kyero.com.