Zebrano arrives in the City with high-end restaurant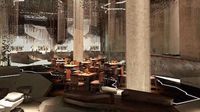 This autumn a new destination venue will breathe life into the heart of London's financial district. Zebrano in the City will offer guests fine dining in sumptuous and sophisticated surroundings created by an award-winning designer.
Opening in the shadow of the Gherkin building, Zebrano in the City is a project born out of pure passion for food and drink between, two long standing friends, Cevat Riza, thefounder of Seymour-Valentine Coffee, former Head of Hospitality for JP Morgan, Don Cameron. Pauline Crossman, a partner in an accountancy practice who joined the business in 2013 as their Finance Director is also one of the main shareholders in the project.
The breathtaking two floor venue will span over 6,000 square feet and will offer a restaurant, bar and nightclub all under one roof. The top floor will house a luxury dining experience with impeccable service and exceptional dishes prepared by Zebrano's talented team of chefs, whilst the lower ground will have more of a late night lounge ambience, serving smaller sharing dishes and delicious cocktails. Renowned DJ's and live acts will perform downstairs throughout the night.
Zebrano will also be the only restaurant to collaborate with Taittinger Champagne on a Chef's Table concept for up to eight people will offer a tasting menu of seven mouthwatering courses designed, served and explained by the chefs and expertly paired with a matching Taittinger champagne with each course.
The impressive interior will blend the organic with an urban elegance, designed by the internationally recognized Architectural Designer and Conceptual Artist, Perparim Rama, the founding director of 4M Group. Through the use of recycled materials, the multidimensional design will be both inviting and eclectic, creating a raw combination of earthy sophistication and industrial chic.
As guests are led through the impressive rooms and down to the ground floor, they will be presented with a spectacular view over the striking space. Surrounded by a myriad of arresting installations hanging throughout the roof and invoking the impression of an explosion of energy, with smaller pieces suspended delicately and appearing as if in mid-air, like decorative pieces of rubble. Hand crafted furniture, rich wooden floors, shimmering bronze and low lighting will create an otherworldly ambience guaranteed to keep guests entertained late into the night.
Executive Chef, Chris MacCormick has created a well conceived menu which merges both European and Asian flavours, with dishes such as salt baked celeriac with Dorstone goats cheese, cob nuts, and caramelised pear, and a scallop ceviche with avocado, cucumber, radish and apple salt. Other dishes will include, venison tartare served with heritage beetroots, confit egg yolk, nasturtium and rye, roast loin of hare with hunters pie, beetroot, drizzled with a bitter chocolate sauce, and braised fillet of brill with a chorizo crust, fennel and king oyster mushrooms.
The upstairs bar area will also offer a range of innovative cocktails at the show stopping bar, combining fresh and organic ingredients with the finest spirits found in London. The first floor will also house an exquisite private dining room for up to ten people.
Don and Cevat founded the first Zebrano on the corner of Carnaby Street over 10 years ago, soon followed by another site on Greek Street in 2008. Both bars enjoys prodigious success, but Don and Cevat have always had a desire to expand beyond the bar/lounge experience and to open a fine dining restaurant and now, after years of planning and hard work, Zebrano in the City will soon be the realization of these dreams. Located on London's iconic Houndsditch and providing the highest quality cuisine, and service, Zebrano City is set to become a destination London venue.
Zebrano Restaurant
18-22 Houndsditch, EC3A 7LP, London
Opening Times: Mon- Sat: 11am-late
W: zebrano.london