Sun, sea, sand and shops - second home owners enjoy retail therapy in Alicante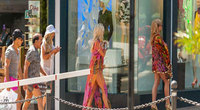 Spain has enjoyed a record-breaking summer, with some 54.4 million foreign visits in the first nine months of 2015, up 3.8% on the year before, according to the Industry, Energy and Tourism Ministry. But now that the summer season is at an end and the holidaymakers are back at work in their home countries, has Spain accepted that the rush of visitors is over for another year?
Far from it! Instead, Spain is increasingly being seen as the ideal European country in which to enjoy a spot of shopping tourism. The value of Christmas shopping in luring customers from overseas has certainly not been lost on the Iberian country, as Deputy Prime Minister Soraya Saenz de Santamaria explains,
"We have to open the riches of tourism to other sectors of the economy to end the bipolarity and seasonal nature posed by alternatives such as the sun and beach."
The capital, Madrid, is already a well established international shopping destination. According to Xinhua news agency, it is the fifth most popular city in Europe in terms of spending by non-European visitors (after London, Paris, Barcelona and Istanbul). Yet Spain is now keen to promote shopping tourism across the country.
Marc Pritchard, Sales and Marketing Director of leading Spanish homebuilder Taylor Wimpey Espana, comments, "Spain is a great destination for shopping, whether it's in the run-up to Christmas or at any other time of year. In the south of the country, Alicante is a particularly attractive destination when it comes to high-end clothes and luxury items like watches and jewellery. There's a wide variety of choice, from huge shopping malls to tiny boutique stores."
Alicante is Spain's fifth most popular city for shopping tourism at present, according to the 'New Era of Retail Travel' report presented at the recent shopping tourism conference in Madrid. The report has also projected that shopping tourism revenue in Spain could increase to as much as €5 billion in the next four years. With government attention focused so strongly on it, those who own holiday homes close to key shopping tourism cities can certainly look forward to even greater variety of choice over the years to come.
Many buyers of Taylor Wimpey Espana's holiday homes along the Costa Blanca indulge in retail therapy as part of their regular visits to Spain. Those buying at La Recoleta III, at Punta Prima, Torrevieja, for example, realise that it is the ideal base for enjoying the best that Alicante has to offer. The high spec homes are available from just €175,000 for two bedrooms and each property comes with a generously sized terrace, for enjoying the fantastic climate year-round. The uniquely designed penthouses also feature solariums and outstanding views.
La Vila Paradis at Vilajoyosa is another great choice for those looking to explore the area, being just 20 minutes from central Alicante. The two and three bedroom apartments enjoy beautiful views over the beach and sea and the ground floor units feature private gardens. Like all of Taylor Wimpey Espana's developments, La Vila Paradis benefits from a communal pool and pretty, shared gardens. Prices start at €248,000.
For more information, visit taylorwimpeyspain.com.