Size does matter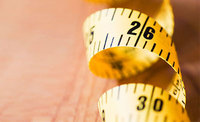 With the festive season just around the corner, many Brits will be treating themselves to a party-ready outfit. However, it seems that some could be searching longer than others as new research from Mintel finds that more than one in three (38%) Brits agree they struggle to find clothes that fit them well, rising to half (49%) of UK women aged 16- 44.
Whilst many will be trawling the shops for a better fit, it seems some will take matters into their own hands as one third (33%) of all consumers say they sometimes have to make alterations to clothes.
What's more, Mintel research shows that UK consumers could do with a hand in the fitting room, as almost two in five (38%) Brits say they are not confident about which clothes best suit their shape or size. Yet, over half (55%) are willing to spend more on clothes that suit or flatter them.
Tamara Sender, Senior Fashion Analyst at Mintel, said: "The fact that consumers are willing to spend more on clothes that flatter them highlights just how important it is for retailers to focus on designing clothes that are cut to fit well and use the correct fabric to improve the way a garment falls. Retailers can also do more to help shoppers find the correct fitting clothes and there is scope to have staff with additional training in tailoring skills on hand in changing rooms that know how to measure a customer and advise them on what fits."
Whilst many may be struggling with fit, three in four (76%) Brits agree they would like to see a better size standardisation across clothing retailers or brands, and a further 63% of Brits would like more stores to offer a wider choice of sizes, for example petite or larger sizes.
Indeed, Mintel research finds the highest level of dissatisfaction when shopping for clothes is related to availability of products in a consumer's size, with 7% of Brits who bought clothing for themselves in-store or online in the last year dissatisfied. Proving that age is no advantage to this problem, this rises to one in 10 (9%) of 16-24 year olds.
"There are currently huge variances between retailers, with a size 12 for example fitting differently depending which retailer or brand it is purchased from, meaning customers cannot automatically know whether a garment will fit them without trying it on. There is therefore a real need for retailers to more accurately manufacture clothes so there is consistency in sizing across all retailers and brands." Tamara continues.
The clothing market in the UK continues to maintain a healthy price tag, as Mintel estimates consumer spending on clothing will reach £53.5 billion in 2015, a 4% increase from £51.5 billion in 2014. Further to this, the clothing retailing market is forecast to grow by 20% over the next five years to reach £64 billion in 2020.
Similarly, online sales of clothing and accessories are predicted to stay strong, as Mintel estimates online spending on clothing and accessories will reach £12.4 billion in 2015, up 16% from £10.7 billion in 2014 and accounting for 20% of overall spending in the market.
While as many as 65% of Brits currently buy clothes online, sizing still proves an issue. Indeed, of those who bought online for themselves in the past year, 37% returned clothes, rising to over half (54%) of 16-24 year olds. The biggest reason for returning clothing is poor fit, with 43% of consumers who have returned goods making this claim.
Consumers however show a strong interest in technological fitting solutions as 45% of Brits would be interested in a virtual fitting solution that compares the measurements of an item with a garment they already own. The same number (45%) would be interested in a service, for example a mobile phone app, that matches their measurements with different retailers and brands. Another 39% of consumers would be interested in trying a digital body measuring service, for instance body scanners or a home webcam.
"While the growth of online shopping has accentuated the focus on the problems consumers have with finding clothes that fit, this is not a new problem. However, in an increasingly competitive market, retailers that look to find solutions for customers shopping both in-store and online will stand out from rivals." Tamara concludes.