What are the best Italian food spots in London?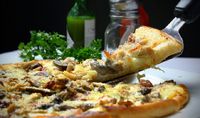 Without actually departing these shores for Italy, perhaps the closest you can get to feeling like you're in what is a strong contender for Europe's most stylish country is dining in an Italian restaurant. And hugely cosmopolitan London has to be the UK's most vibrant hub of Italian eateries! But which are the best of them? Here are our own recommendations.
L'Anima
The name means "soul" in Italian, and there's certainly a lot of it within the walls of this eatery that borders the City and Shoreditch. You can thank the passionate chefs here for the authentic cuisine, which has a strong Southern flavour and is inspired by dishes from Sardinia, Puglia and Sicily, and thank renowned architect Claudio Silvestrin for the building's sumptuous design.
Given all of these favourable factors, it shouldn't come as hugely surprising that TripAdvisor has cast its coveted Certificate of Excellence on L'Anima in 2015. You can read customer reviews on the travel site for an even better idea of what won L'Anima the prestigious accolade.
Artusi
The first time you walk into this Peckham restaurant, you are likely to be struck by its minimalist appearance. In fact, from the interior to the dishes themselves, Artusi appears a rather unassuming jaunt that, above all, prefers to leave its food to do the talking.
What food exactly? Well, look at the menu and you'll find a pleasing diversity of cuisine, from asparagus to pasta to ice cream, to pick from. There's nothing boisterous about Artusi; it simply wants to get on with quietly impressing you, and impress you it will.
Trullo
The secret's out! Trullo is one of the capital's premier Italian food spots, and many locals seem to have noticed - "busy" doesn't even begin to describe how it often is during the evenings. For that reason, we would definitely advise that you book your visit here at least a week beforehand - and, if possible, for a lunchtime, when you are likely to find the place feeling less hectic.
But, once you do get seated at this hugely popular restaurant in Highbury, what can you expect to see on the menu? To mention just a few of the choices: charcoal grilled delicacies, natural and biodynamic Italian regional wines, and - listed among the desserts - a good number of tempting tarts. The restaurant first opened in 2010 and is likely to help keep tastes for Italian sated for many years to come.