British love for Spanish property still burns strong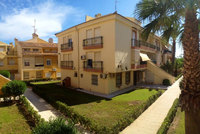 Britain's love affair with Spanish property took some serious knocks when the market crashed back in 2008/09, but the latest figures show that Brit's fondness for Spanish homes has far from faded. In fact, British buyers are surging back to locations like the Costa Blanca in droves.
The impact of buyers from overseas in such popular tourist areas is not to be underestimated. According to the latest Alicante market report from Data.kyero.com, median property prices in the area increased by 19.07% in the year to October 2015, with sales to international buyers accounting for 51.88% of transactions (as at Q2 2015).
Chris White, Founding Director of Ideal Homes International, comments, "The British love for Spanish property is definitely still burning strong and locations such as the Costa Blanca are those that benefit the most. The attractions are clear – 320 days of sunshine per year, a huge range of beaches, golf courses and other attractions to choose from, a diet recognised by UNESCO and one of the top 10 healthcare services in the world according to figures from the World Health Organization. And that's just for starters. It's easy to see why so many Brits choose to own a second home in Spain, or even to make a new life there, when all this is just a short flight from the UK."
More than 34 million passengers flew from the UK to Spain in 2014, representing almost a quarter of all travel to EU countries, according to the Civil Aviation Authority. And in early 2015, figures from Rightmove revealed that 48% more Brits were searching for property in Spain than they were a year before.
When it comes to the property market, Spain is enjoying a sustained recovery. Property sales totalled more than €24 billion during H1 2015 based on figures from the Ministry of Development, with transactions up by more than 10% when compared with the same period in 2014.
Brits looking to buy along the Costa Blanca have a wide range of options open to them. Prices in Spain remain below their 2007 peak, meaning there are some real bargains to be found. A three bedroom, two bathroom apartment with roof terrace including built in BBQ in Torrevieja can be picked up for just €96,000. You can even gaze across the rooftops to the sea for that price, with the beach just 100 metres away.
A two bedroom Costa Blanca seafront apartment with communal pool is only a little more, at €128,000. As a frontline property, the views are stunning and there are plenty of restaurants and shops nearby, as well as a weekly market.
These kind of prices are certainly helping to reignite British buyers' passion for Spanish property. Ideal Homes International's Chris White concludes,
"UK buyers can get some real bargains in Spain at the moment, though rising prices mean that they may now have to shop around a little more than they did this time last year. However, there are still enough properties on the market at great prices that 2016 looks to be a fantastic year for purchasing Spanish homes, whether on the coast or inland. TINSA has flagged up the Mediterranean coast as one of the main drivers behind recent price growth, with average prices there increasing 3.6% in the year to October."
From winter sun chasers to those looking for a more permanent residence in Spain, the scene is set for the Costa Blanca to enjoy an exceptional year in 2016.
For further details call Ideal Homes International, visit idealhomesinternational.co.uk.