A-lister experiences in Sydney this summer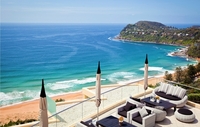 Have you ever wondered where the rich and famous stay when they're in Sydney? Where do the movie stars have dinner? What Sydney spa treatment do the beautiful people get? Where do the stylish celebrities go shopping? Destination NSW has prepared an itinerary of A-Lister experiences to do in Sydney this Summer.
Destination NSW CEO, Sandra Chipchase, said: "Sydney is a city that attracts some of the world's biggest celebrities, from Bondi local Hugh Jackman, to pop music superstar Justin Bieber. With a Summer full of blockbuster arts and entertainment events including Sydney Festival and Australia Day there are plenty of opportunities for visitors and locals to experience the glamour, sophistication and world class dining that attracts A-Listers to our city."
Here is Destination NSW's guide to some of the many ways visitors can enjoy celebrity experiences in Sydney this Summer.
Treat yourself to a new outfit at The Intersection in Paddington
Buy a new outfit at The Intersection in Paddington the home of Australia's best fashion talent including sass & bide, Willow, Zimmermann, and Camilla and Marc to name but a few. Brush shoulders with A-Listers as you bag the same pair of 'to-die-for' heels. The area is buzzing with models, musicians, stylists, artists and anyone with a penchant for luxe labels and beautiful designs. The Intersection on the corner of Oxford Street and Glenmore road exudes the charm of a Parisian laneway, has the edge of New York Fashion Week and the style of Sydney.
Take flight to the Northern Beaches
Take a Sydney Seaplane over Sydney's spectacular Northern Beaches before touching down in Pittwater. Enjoy a three course lunch at Jonah's perched on a clifftop overlooking Whale Beach. Panoramic ocean views are combined with a meal cooked by Peter Ridland whose credentials include working with Michel Roux Jnr at the 2 star Michelin Le Gavroche in London and Jacques Marcon from the 3 star Michelin Restaurant Regis in France. Ridland's seasonally-driven menu offers contemporary Australian cuisine that has earned Jonah's a Chef's Hat. After your meal, board the seaplane flight to head back to Rose Bay, whilst taking in a Sydney Harbour circuit of the Harbour Bridge and Opera House.
Indulge in a Spa treatment at Spa Q
Head to Spa Q at QT Sydney and indulge in the 90 minute Uspa Freshly Picked Treatment where one of the talented therapists will design a personalised treatment experience to best suit you and your beauty needs. Treatments at Spa Q begin with a relaxing welcome ritual so you are already floating before you reach the treatment table. Be sure to allow time to enjoy the fabulous Hammam-inspired steam room before you leave. QT Sydney has played host to some of the world's biggest celebrities including Solange Knowles, Theresa Palmer and Olivia Palermo, and their luxury spa treatments will leave you feeling like an A-Lister.
Dine at Icebergs
Since it opened in late 2002, Icebergs Dining Room and Bar has hosted Australia's biggest stars and international celebrities including Nicole Kidman and Keith Urban, Pink, Michael Clarke and Oprah. Icebergs has all the ingredients for fine dining with an iconic Bondi Beach location, uber cool interiors, and modern Mediterranean cuisine. Owner Maurice Terzini has ensured the restaurant maintains its coveted status of Two Chefs Hats, offering a pre-dinner cocktail in the bar, scrumptious mains to a luscious dessert and caffe corretto to end a memorable meal.
Stay at one of Sydney's finest luxury hotels
Sydney is home to some of the most luxurious hotels in the world including QT Sydney, The Darling, The InterContinental, The Langham and Park Hyatt to name but a few. For Sydney's finest afternoon tea the Palm Court tea room at The Langham is a must. QT Sydney in the heart of the city also offers fine dining with edgy contemporary design at Gowings Bar & Grill. Be it breathtaking harbour views, sophisticated modern design, and 5 star luxury, these hotels offer the best of the best and are the most popular for visiting International film stars and musicians, as well as local celebrities in Sydney for red carpet events.
Start the day with breakfast by the beach at Three Blue Ducks in Bronte
For A-listers and celebrities, staying healthy with nutritious fresh food is a must. Start your day with a bowl of fresh fruit and bircher muesli, or something more hearty like the much loved scrambled eggs with black sausage at Three Blue Ducks. Located just up the hill from Bronte Beach, they use the best local produce to create unique dishes with loads of flavour with ingredients straight from the onsite kitchen garden. Hollywood heavyweights Ashton Kutcher and Mila Kunis dined at Three Blue Ducks when they were in Sydney.
Discover your style with a personalised styling session at Westfield Sydney
Positioned in the heart of the Sydney CBD, Westfield Sydney hosts some of the world's most exclusive and luxurious brands. Over a complimentary glass of champagne, Westfield's personal stylists can connect you with the very latest fashion trends, must-have accessories and enhance your own natural individuality. Taking advantage of the luxurious lounge that is the Concierge Services Suite – this is the perfect way to improve your Summer wardrobe and look and feel like an A-Lister.
Indulge in a long lunch at Watsons Bay Hotel
Decked out in a new designer outfit, head to Watsons Bay Boutique Hotel Beach Club and indulge in a long lunch. This harbourside retreat is renowned as one of Sydney's most iconic casual waterfront dining and bar hot spots. Located on the water's edge of the famed Watsons Bay boasting views of the breathtaking city skyline amid swaying palm trees and warm sunny breezes, this is the perfect place to rub shoulders with celebrities while sipping on a signature summer cocktail, the Coco Bay served in a fresh coconut.
Visit sydney.com for more information.