Marco stops by to inspect new grounds at Cadbury House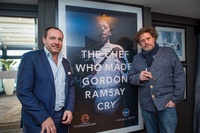 Renowned chef Marco Pierre White has paid a special visit to his restaurant in Congresbury to oversee recent works completed on the grounds.
An investment of over £100,000 has been made to improve the grounds surrounding the Steakhouse Bar & Grill at DoubleTree by Hilton, Cadbury House including the introduction of animals and the re-landscaping of the large feature pond.
The work is part of an ongoing project introduced by Marco to soften the landscape of the setting and offer customers an authentic rural experience when they visit.
DoubleTree by Hilton, Cadbury House general manager Colin Badcock said: "Marco has a very strong ethos and a passion for nature and the countryside. The work we have recently conducted on the grounds has all come from Marco's vision of what he wants the environment to feel like.
"We now have guinea fowl, Indian Runner ducks and tumbling doves onsite with plans to add more wildlife in the near future. We've restructured the layout of the extensive land around the hotel and restaurant adding lovely log walls, planters and a vegetable plot as well as a quirky Shepherd's hut, which will eventually be used for something exciting but we're not quite sure what yet!
"The re-landscaping of the pond was a challenging task but the benefits to the ecological environment are worth it. We've cleaned and re-lined the pond to encourage plant and wildlife there.
"In addition we've added a new groundsman to our maintenance and grounds team and we're really looking forward to expanding on our natural project in the next year.
"We are a destination setting; although just outside Bristol, we are in the heart of the countryside with panoramic views of the rolling North Somerset hills and the Bristol Channel. Our surroundings are so important for customers who visit the restaurant for a special occasion and for the wedding parties who choose us for their special day, so it is something that we are happy to invest in."
Marco said: "I love the countryside. It's where I live and where I feel most comfortable. Developing the natural environment and wildlife around my Wiltshire property The Rudloe Arms has been a passion for the past few years and it is something I felt strongly about introducing at Cadbury House.
"The views here are spectacular and the surroundings lend themselves to wildlife such as guinea fowl. I think it also creates more of an experience for the visiting customer, especially children, who will be able to feed and interact with the animals."
While visiting the restaurant Marco also met with fans and customers and signed copies of his book Marco's Great British Feast which features over 100 classic recipes designed and developed by the three-time Michelin starred chef.
For more information about the Marco Pierre White Steakhouse Bar & Grill visit mpwsteakhousebristol.co.uk