Bagging bargains in Iberia - Holiday homes for under £100k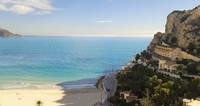 The days of holiday homes being the sole domain of Hollywood A-listers and the well-to-do are long gone. With property prices in Spain and Portugal still offering incredible value compared to those in the UK, ownership overseas is more achievable than ever.
Chris White, Founding Director of Ideal Homes International, comments, "Although Spain and Portugal have seen house prices increasing steadily for some time now, there are a plethora of bargains to be picked up in both countries. Many holiday home buyers are amazed at how much they can get for their money. Clients come to us looking for an apartment with a pool by the sea for under £100k and are delighted with the extensive choice we present them with."
Spain has more to offer those looking for the very cheapest second homes within easy reach of the UK. Keen golfers looking for a bolthole in the sun will be delighted to find they can pick up a first line Costa Blanca golf bungalow for just €49,000. And buyers who prefer the water over the fairways only need to spend a little more – €55,000 will buy a Costa Blanca apartment with pool just 300m from the beach.
While neither property promises the height of luxury, it can't be denied that a second home in the Spanish sunshine for under £50,000 is rather tempting!
For buyers with up to £100,000 to spend (around €130,000, according to XE), the choice of properties is extensive. Ideal Homes International currently has 265 listings at or below that price in Spain alone. At the upper end of the price bracket, coming in at €130,000 on the nose, is a brand new, two bedroom townhouse in Torrevieja, in the southern Costa Blanca. Part of a gated community, the house comes fully furnished and enjoys a large private garden and solarium. There's also a communal pool for cooling down after those long, hot summer days.
Or head to the beautiful expanse of Poniente Beach for spectacular sea views from your living room window, for just €129,800. One bedroom apartments in Edificio Don Miguel Angel come complete with communal swimming pool and tennis courts, as well as enjoying a fantastic location.
In neighbouring Portugal, the choice of properties at or below €130,000 is also extensive. The popular Algarve region is ideal for those looking for easy access from the UK and property prices are so low that Everything Overseas recently crowned Portugal the world's top place to get on the housing ladder.
In the bustling town of Portimao, just minutes from the stunning beach of Praia do Vau, a top floor apartment with views of the Monchique Mountains can be had for just €115,000. Landscaped gardens with a children's play area, tennis courts, barbecue facilities and swimming pools provide an excellent setting for this spacious property.
The upscale resort of Vilamoura is also perfectly achievable on a budget, with a generously proportioned and recently remodelled studio apartment with communal pool close to golf and beaches available for €110,000.
"£100k goes a very long way in both Spain and Portugal," concludes Ideal Homes International's Chris White. "You can enjoy a choice of location and features for that price, from a swanky studio in a popular tourist location to a two bedroom home somewhere more laid back and authentic. It's definitely a buyer's market so far as bagging bargains in Iberia is concerned."
For further details, visit idealhomesinternational.co.uk.