Engel & Volkers Mallorca increased sales volume by 13% in 2015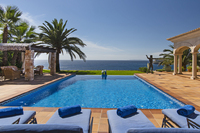 Engel & Volkers Mallorca, the leading international real estate brand with 16 offices around the island recorded a successful financial year in 2015 with total sales transaction volume of 292M Euros representing a 13% increase over 2014 (259M Euros).
The average price of property sold last year ranged from 800,000 to 1,500M Euros. Overall, there was a 40% increase in properties sold in 2015 over the previous year. In some areas, value dipped slightly but volume increased. For example, in the south west 50% more property was sold over 2014. In Son Vida, where the average price of property sold was 1.5M Euros, sales doubled last year.
All types of property were sold and the selling period was faster in 2015, for example in central rural areas, 20% of sales were completed within 3 months and in Palma, property was selling between 4-6 months.
This year more investors are starting to look outside of the traditional hotspots to get more value for their budget. There's increasing demand and interest for new off plan developments and in 2016 Engel & Volkers will launch several new high end luxury projects with full services (similar to that offered by top five star hotels). Main overseas investors continue to be German speaking, British, Scandinavian with some French and the national Spanish market starting to come back for second homes.
Says Hans Lenz, spokesperson for Engel & Volkers Mallorca; "This year, Engel & Volkers celebrates more than 25 years in Mallorca. The power of our international network combined with our professional local know how has certainly delivered excellent results in 2015. We envisage continued interest from primarily overseas buyers fuelled by strong currencies outside of the Euro, the enduring appeal of Mallorca and the desire to own a place in the sun that is safe, secure and easily accessible".
To find out more about Engel Volkers Mallorca, visit engelvoelkers.com/mallorca.