A Look at the Samsung Galaxy S7 and S7 Edge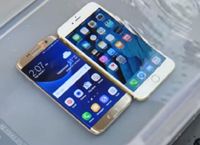 It's that time of year again for Samsung fans to get a look at the latest model of their favourite phone. The details of the Samsung S7 and Galaxy S7 Edge have been revealed and made official. This means that all rumours can be swept aside and the facts can be revealed.
Display
The display for the Samsung S7 is a curved design, which runs to the very edges of the device itself. This is done by using the flexible OLED screen which is now contoured. It's easy to get on with bingo sites with the quality of the graphics. The difference between the Edge and normal S7 this year is the fact that the S7 packs a 5.5-inch display (2569x1440 resolution) where the Edge has its 5.1-inch display.
Camera
It will come as no surprise that the camera has had an upgrade. This includes a sensor that uses 1.4um pixels which is a higher-rate than the S6's camera. The other camera will be f/1.7 aperture, which is down from last year's f/1.9. It will be interesting to see what the reviews say about this change, or if there is enough of a change to even be noticed.
Software
The Samsung phones as we know are Android phones, and there is no change with the S7 or S7 Edge. The version of Android on the S7 is Marshmallow with Samsung's own software on top of that. You can expect added gesture controls and more apps being available through due to the change in display.
Hardware
An interesting addition in terms of hardware is the use of the microSD card slot, which is making a return. Don't expect a removable battery pack though, but expect a good battery performance from the included pack.
In terms of processors there will be two types, the Samsung Exynos and the Qualcomm Snapdragon. Samsung hasn't revealed which region gets which for now. What we do know though is that the CPU runs 30% faster than the S6 chip.
Conclusion
Much like with the iPhone update, do not expect much of an explosive change in terms of the Samsung S7 and Samsung S7 Edge. Samsung fans are likely to buy the latest model, and new Android users will look to it as the top of the market, which it appears to be. Now to see what new things will come with next year's version of the phone.