Mallorca celebrates place in the world's top 10 best island destinations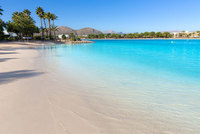 2016 continues to be a significant year for the Spanish island of Mallorca as it becomes prominent on an increasing amount of holiday wish lists. A new entry for 2016, TripAdvisor's latest installment of their Travelers' Choice awards revealed that Mallorca is now the sixth best island in the world confirming its place as one of this year's go-to holiday hotspots.
Mallorca has been celebrated for its variety of activities on offer, with something to suit everyone, as well as its picturesque scenery and idyllic beaches. And the most recent figures suggest that a growing number of tourists are choosing Mallorca as their 2016 holiday destination.
International tourist spending in the Balearics during February this year amounted to 170 million euros, according to the Tourist Expenditure Survey of the National Statistics Institute (INE), an increase of 45.6% over last February.The substantial increase in February spending in the Balearics was significantly higher than any of Spain's other principal tourism regions.
Leading Spanish homebuilder Taylor Wimpey Espana has definitely experienced a growing interest for property on the island and are answering this rising demand with the launch of their newest development. Bahia Sant Pere is a Mediterranean-inspired residential development situated in the traditional north east coastal village of Colonia de Sant Pere, perfect for those wanting a more rural setting for their second home.
As a resident of the beautiful island himself, Marc Pritchard, Sales and Marketing Director for Taylor Wimpey Espana, is delighted that Mallorca is receiving global recognition as a first choice holiday location and predicts its popularity will continue to grow.
He explains, "Mallorca's inclusion in the latest TripAdvisor awards is a wonderful representation of its development as a leading tourist destination. We have certainly received an increasing number of enquiries in relation to the island with international visitors looking to experience all that Mallorca has to offer. As its popularity continues flourish we are delighted to launch a new development which brings its residents even closer to the real Mallorca."
Less than an hour from Palma's international airport, and only a short distance from the local fishing port and Mallorca's golden coastline, Bahia Sant Pere is comprised of two and three bedroom apartments. From just €189,000 +VAT all apartments have two bathrooms, an open-plan kitchen with breakfast bar and the use of a private parking space. Each resident will have access to the development's two swimming pools and luscious communal gardens.
Known for its outstanding natural beauty, the village of Colonia de Sant Pere allows visitors to experience the more rustic side of Mallorca, being the perfect location to enjoy both the stunning landscape of the mountains of the Peninsula de LLevant Natural Park and the beautiful coast with the white sandy beach of Sa Canova.
For more information, visit taylorwimpeyspain.com.