Holidaymakers and investors both spellbound by the beauty of North Wales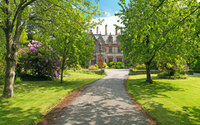 When it comes to enjoying the best that outdoor Great British life has to offer, Wales is undoubtedly the place to be. With soaring mountains, stunning coastline and a whole load of adventure activities to set pulses racing, Wales is the ideal holiday destination for visitors from the UK and overseas.
Jean Liggett, Managing Director of visionary property investment consultancy, Properties of the World, comments: "Wales offers the perfect blend of natural, unspoilt countryside, old world charm and super contemporary adventure. Whether you're travelling alone, with young children or with easily bored teenagers, Wales makes a great destination that will charm and entertain all those who visit."
Liggett knows Wales well through her company, which is offering hotel room investments at the stunning Caer Rhun Hall. The hotel is located in the heart of the Conwy Valley, set in 20 acres of breathtaking grounds, with beautiful countryside stretching for miles around. Built by General Hugh Gough in 1892, the three story mansion is a traditional countryside delight, featuring crow-stepped gables over the bays, a slate roof with heavily ornamented roofline, towering chimneys and thin columnar finials topped with stone balls.
The market town of Conwy is just 7km away, with its pretty beach, majestic castle, ancient walls with 22 towers and the smallest house in Great Britain offering a delightful range of sights and family activities. Further afield, the surrounding Llandudno countryside is awash with everything from classic seaside pursuits at Blue Flag beaches (think piers, Punch and Judy and small tots balanced on donkeys) to art exhibitions and theatres. The whole of the Snowdonia National Park is also easily accessible, offering some of the most picturesque scenery in Great Britain, as well as the opportunity to scale one of the UK's most famous mountains.
Such a wealth of activities makes hotel investment in northern Wales an attractive prospect. Investment at Caer Rhun Hall is from £50,000, with a range of luxurious rooms and villas to choose from. Investors can benefit from a hands-off, fully managed investment with 10% returns per annum, 125% assured buy-back option and even two weeks' personal usage per year.
Conwy and the surrounding countryside, where Caer Rhun Hall is located, will be one of the regions to benefit from the projected boost in tourism that Wales is set to enjoy in 2017, which has been designated the 'Year of Legends' by the Welsh Government. Deputy Minister for Culture Sport and Tourism, Ken Skates, explains:
"The Year of Legends 2017 presents an opportunity to build on the truly distinctive identity Wales has on the world stage, by allowing us to capitalise on Wales's rich culture and heritage to stand-apart from our competitors. In doing so, we want to reinforce positive perceptions of our country, and position Wales as a high-quality, relevant and contemporary 21st century destination."
Wales is already enjoying a booming reputation as an international tourism destination. The country was included in the Rough Guide's Top 10 Countries 2016, which promised that, "culture vultures, foodies, festival junkies, adventurers, hikers and extreme sports enthusiasts will be spellbound here." Now, with investments like Caer Rhun Hall offering a low entry point and excellent returns, investors in Wales can be spellbound too!
For further details, visit propertiesoftheworld.co.uk.