Rise in number of high-flying Brits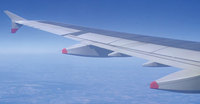 When travelling by plane it seems more Brits are preferring to do so in style as premium economy bookings are taking-off in popularity. New research from Mintel finds that almost a quarter Brits (23%) have flown premium economy in the past 12 months, up from 19% who did so in the previous year. Meanwhile, the proportion flying business has risen to 8% up from 6% in 2015. And what is more, a preference for plusher plane travel has seen the number of Brits flying economy falling by 1 percentage-point to 84%.
The rise in the number taking a seat outside of economy comes as younger Brits are more prepared to splash out in order to travel in style. Indeed, over a quarter (27%) of Brits aged 16 to 34 have flown in premium economy over the past year, compared to just one in six (15%) of those aged over 55. Furthermore, 4% of those aged 16 to 34 who have taken a flight in the past year have flown with a private airline, compared to less than 1% of those aged 65 and over.
Even on short-haul flights, it seems that younger Brits are more likely to spend a little extra. Two in five (39%) of those aged under 45 who have taken a flight in the past year agree it is worth paying more for premium economy on short-haul flights, compared to just 28% of those aged over 45.
In particular, Mintel research finds parents of young children are splashing out on superior seats. Of parents with children aged five and under who have taken a flight in the past year, 39% have travelled premium economy while 17% have travelled business and 6% have travelled in First.
Fergal McGivney, Travel Analyst at Mintel, said: "While air travel is highly commoditised in comparison to accommodation, low oil prices meant that airfares were relatively cheap in the year to June 2016. This, coupled with rising real wages, meant that consumers recognised the value of spending savings on the extra comfort premium economy services offer. In particular, the rise in the number of younger consumers using premium economy comes as they showcase savvy shopping habits when booking flights. Additionally, their use of private airlines is due to the fact that most business travellers tend to fall into the 16-34 age bracket."
While young Brits are the most likely to favour a more glamourous flying experience, Mintel research shows they are the most likely to do the legwork in order to get the best deal. Three in five (60%) flyers aged under 35 exhibit any savvy shopping behaviour, up from an average of 50%.
Indeed, while over a third (34%) of those aged under 35 have compared the price of two one-way tickets to and from the destination to the price of a return ticket in order to get the best deal, 23% say they usually delete cookies from their web browser before doing research for flights online. In comparison, just 6% of over-55s delete cookies before doing a search.
When on the flight however, it seems younger consumers are also more willing to pay for extras. Half (50%) of those aged under 35 who have taken a flight in the past 12 months say they are willing to pay for extra services on a budget flight for a more comfortable flying experience, for instance more legroom or faster boarding times, compared to 35% of those aged over 55.
Moreover, 34% aged under 35 say they would pay to use Wi-Fi on a long-haul flight, compared to just 5% of those aged over 55.
"While Millennials are doing what they can to get the cheapest fare, they are much more open to paying for onboard ancillaries, perhaps as a result of saving money at the booking stage." Fergal adds.
Finally, while the majority (55%) of Brits who have taken a flight in the last 12 months have flown with a budget airline, consumer perceptions of these carriers are improving. Mintel research finds that 56% of those who have taken a flight in the past 12 months say the service offered by budget airlines has improved in recent years.
Overall, Mintel research has found over half (53%) of Brits have taken any flight in the last year, up from 50% in the year to July 2015. Meanwhile 87% of Brits say they have ever flown before, up from 86% who said the same last year.