Charity retailer launches new Autumn collection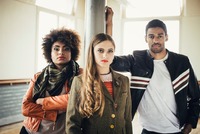 The transition into Autumn/Winter is often exciting as we enjoy the novelty of curling up by the fire or taking a stroll on a crisp day. But it can also be the most expensive time of year, as the search for thicker, warmer coats and new waterproof boots begins.
Anyone looking to stay snug this winter will be pleased to hear that Bristol's beloved St Peter's Hospice charity shops are stocking the season's latest trends at a fraction of high street prices.
And now finding a St Peter's Hospice shop right on your doorstep is even easier as the retailer, which is Bristol's largest charity chain, has opened its 50th shop in the region with a branch in Hartcliffe.
Paul Chivers, St Peter's Hospice head of retail, said: "Once again we have a fantastic selection of Autumn and Winterwear available at our shops across the city and our launch of this collection coincides perfectly with the opening of our 50th store.
"Keeping prices down is our priority, but we also insist on our items being of good quality. We only sell what we love, and we love stock which is in great condition and proves to be a bargain for our customers.
"Our shops are full of pre-loved fashion from top high street labels like Phase Eight, French Connection and Topshop and we regularly have designer clothes in stock, as well as clothes that are unworn with their original tags still on, which we sell for less than half their original price.
"What's great about our annual summerwear and winterwear campaigns is that they are modelled by staff, volunteers and our fantastic local supporters, which really reflects what a community focussed organisation we are.
"We have some really fantastic stock in at the moment, but we're always happy to receive more items, so if you are planning to create space in your wardrobe this winter, we greatly appreciate all donations. Without all the incredible help we receive, we wouldn't be able to continue helping those who need us."
As Bristol's only adult hospice, St Peter's Hospice cares for more than 2,000 patients each year as well as supporting family members.
All services are provided free of charge but this care costs around £19,000 a day. For around £14,000 of that, the hospice relies on gifts in wills, kind donations and funds generated by the hospice shops.