Airside to poolside has never been easier as 2017 brings host of new flights from across the UK to Spain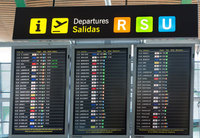 2017 will indeed be a Happy New Year for Brits wanting to visit sunnier Spanish climes. Commencing throughout the year, an array of new flights will connect the UK and Spain, meaning 2017 could be the perfect year to turn that dream holiday home into reality.
28th March 2017 will see British Airways introduce two new flights per week from London Heathrow to Spain's Murcia airport. Only a short distance from the airport, keeping the time between airside and poolside to a minimum, is leading Spanish homebuilder Taylor Wimpey Espana's beautiful new beachfront apartments in Punta Prima.
From just €194,000 +VAT, La Recoleta III's 2 or 3 bedroom apartments boast a well-designed layout, each with a private terrace with owners able to enjoy beautiful views over the Mediterranean Sea, swimming pool and private gardens of the development.
Marc Pritchard, Sales and Marketing Director of Taylor Wimpey Espana, believes that Spain is a safe haven for overseas buyers and its popularity will continue to build throughout 2017. He comments,
"International buyers, especially Brits, have always been attracted to all that Spain has to offer and 2016 proved another popular year, welcoming over 4 million tourists in November alone! The influx of new flights being added between the UK and Spain only exemplifies the demand from Brits to experience a taste of the Spanish lifestyle."
Other airlines adding new flights include budget Spanish airline Vueling who have introduced a major expansion in passenger capacity on flights from Cardiff airport for the summer season. Following strong demand some 190,812 seats are now on sale on flights to Alicante, Barcelona, Malaga and Palma between April and October.
Thomas Cook are also introducing new flights to Malaga from Manchester Airport from January 2017.
In close proximity to Malaga Airport is Taylor Wimpey Espana's stunning new residential development, Horizon Golf, part of the La Cala Golf Resort. From €270,000 +VAT, properties are ideally located between the sea and mountains and provide residents with 3 bedrooms, 2 bathrooms and direct access to the sun terrace with panoramic views of the largest golf resort in Spain.
Other additional flights are being launched by easyJet, as they introduce a new route from London Luton to Valencia from February 2017, and Ryanair who have revealed ten new routes from Glasgow airport. There will be four new weekly flights to Malaga and three new weekly flights to Alicante.
Less than 20km from Alicante Airport is Taylor Wimpey Espana's Brisas de Alenda Golf, Elche. From €145,000 +VAT it combines the tranquil area of the Alenda Golf Course with Alicante's more lively beachfront nightlife. The 3 bedroom townhouses are split over 2 storeys with 2 bathrooms, a terrace, a private garden area and parking.
The growing number of flights to these popular destinations will provide British travelers with many more options for their European holidays and allow all areas of the county easier access to a second home. Where will the New Year take you?
For more information, visit taylorwimpeyspain.com.