Passenger numbers go sky high as Spanish airports enjoy best year in history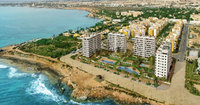 Spain enjoyed a record breaking 2016 when it came to the number of travellers visiting the country by air according to the latest figures from Aena, the state trading company which manages Spanish airports.
161.7 million International travellers passed through Spanish airports last year, confirming its global reputation for connectivity with 67.5 million domestic passengers also travelling during the same period. In particular, Alicante-Elche airport in the popular south-east of the country recorded a historic high in 2016, handling 12.3 million passengers, an increase of 1.7 million passengers in a single year. Interestingly, almost half (42%) of the passengers through Alicante-Elche were from the UK, indicating that the pull for British tourists to the Costa Blanca remains strong.
And even in the face of Brexit, the outlook remains bright with budget airline Jet2 announcing that between April and November this year, they will increase flights by 40% from 9 destinations in the UK including London-Stansted, Edinburgh and Leeds to Alicante-Elche airport, reaching a peak of 93 flights per week in high season.
Marc Pritchard, Sales and Marketing Director for Taylor Wimpey Espana, the renowned housebuilder which has operated successfully in Spain since 1958, has observed first-hand the rising numbers of both flights and passengers entering Spain by air over the last year.
"Living here in Spain and travelling frequently myself both for work and pleasure, you can just see that the airports are busier. More flights, especially from the UK and Northern Europe, bigger aircraft and higher passenger numbers are being witnessed which, in my opinion, is a very positive indicator of the health of the country's tourism sector.
"Not only did the airports enjoy a record 2016 but Spain overall welcomed the most foreign tourists ever last year, some 75.6 million according to the latest INE data which is an impressive 10.3% increase year on year and we look forward to welcoming even more in 2017."
Inextricably linked to accessibility and tourism, Spain's holiday home sector is also optimistic for another good year in 2017. As Marc Pritchard explains,
"As we reported last month, the Spanish market during 2016 was positive for us here at Taylor Wimpey Espana with an order book increase of 8.5% and completions up 21% on 2015 figures. The latest airport and tourism figures, combined with sentiment here on the ground means that our outlook for 2017 is positive, especially for the Costa Blanca, despite wider macroeconomic uncertainty created by the EU referendum result."
Taylor Wimpey Espana are committed to an optimistic 2017 and are therefore launching new developments; Panorama Mar and La Recoleta III.
Property buyers wishing to soak up the sun in the fantastic region of Alicante then look no further than La Recoleta III. This site is near the beachfront with access to the sea and beach just a few metres away, with the Costa Blanca, famed for its fabulous white sandy beaches.
La Recoleta's Mediterranean style buildings, wide avenues leading down to the sea, immaculate garden areas and well-run services make this a perfect place to relax and enjoy the fantastic climate all year around.
With prices starting from just €194,000 +VAT, the 2 or 3 bed apartments have a well-designed layout, each with a private terrace. Enjoy beautiful views over the sea, the pool and private gardens of the development. The unique penthouses include solariums and outstanding views and to top it off, Alicante's International airport is just a one hour drive.
Taylor Wimpey Espana's complex, Panorama Mar, is a new first line development, situated on Punta Prima Beach in Torrevieja. This private residential complex offers an array of 2 and 3 bedroom apartments, all designed for both comfort and convenience, with 2 bathrooms and an underground parking space. Each apartment in the first phase is south facing and therefore blessed with spacious terraces and stunning views over the Mediterranean Sea.
With prices starting from just €234,000 +VAT, every resident is granted direct access to the beach promenade. Alicante's International Airport is just 45 minutes away and Punta Prima is also blessed with excellent transport links.
For more information, visit taylorwimpeyspain.com.