Mother in Law menu at Royal Harbour Hotel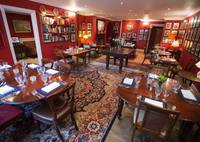 The Empire Room restaurant at the Royal Harbour Hotel in Ramsgate, is to offer a special Mother-in-Law menu, on the Sunday following Mother's Day.
The move is not an attempt to revive the politically incorrect material of working men's club comedians, rather a response to customers with divided loyalties between their own mothers and that of their partner.
"Because of differing locations between parents, it's often not possible for couples to take both mothers to lunch on Mothering Sunday," said Empire Room chef Craig Mather.
"A number of customers asked if we would repeat the menu the following Sunday for their mother-in-law, although we won't be accommodating one request to substitute toadstools for mushrooms or poisonous daffodil bulbs for onions," he said.
The Empire Room will serve a Mothering Sunday Lunch, with a choice of 5 starters, mains and desserts on 26th March and again as a Mother-in-Law special on 2nd April, priced at £22 for two courses and £26.50 for three.
The Michelin-trained chef, renowned for his use of local, seasonal produce, has received wide spread acclaim from national press restaurant critics, since taking over the kitchen at the Empire Room in July 2016.
More information at royalharbourhotel.co.uk.