Places people love without the cost of renovating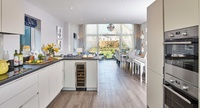 Taking place between 15th May – 22nd May, the Home Builder's Federation (HBF) is running New Homes Week working with many of the UKs leading developers to highlight the advantages of buying new. Brand new research from the HBF has found that the cost of upgrading an older property to the same standard as a newly built home now costs around £50,000. Award winning developer, Countryside, is currently creating a range of new homes to suit all types of buyers offering Kent house hunters the opportunity to reap the rewards of choosing new over old.
The figure of £50,000 is the total amount an owner of a second-hand home would be faced with spending in order to have features such as better insulation and guttering, new integrated appliances within the kitchen and new central heating, compared to when buying a new home where the features come as standard! Also, all Countryside homes come with a two-year customer service warranty following completion and a 10-year NHBC warranty covering structural issues, protecting the buyers from liability on structural problems and offering home owners peace of mind.
Emma Fearn, Associate Director for Sales and Marketing of Countryside's New Homes and Communities South region comments: "New Homes Week offers a great opportunity to dispel age old myths about new build properties and instead help the public understand the huge benefits that come with purchasing and living within a new home. For a homeowner of a second-hand property who wants to get the same standard of finish and functionality they could expect from a Countryside home, the cost could be up to £51,643, according to the HBF. This includes paying out for a new kitchen at around £7,900, central heating at £6,185 and re-wiring at £8,850".
Countryside offer a range of incentives to help its buyers to secure their dream home, some of which include the government's Help to Buy equity loan that provides movers with the chance to purchase with as little as a 5% deposit, whether you're a first time or second time buyer and a Part Exchange scheme. Countryside also offer stamp duty contributions on selected homes and a thank you to family members that support their relatives to get on the property ladder for the first time by helping to raise their deposit, with a £2,000 gift back to the Bank of Mum & Dad.
Ideal for those looking to buy new, Countryside is currently marketing Azure at St Mary's Island, Horsted Park, Willow Grange, Springhead Park and Kingsbridge in the Kent area:
Azure, St Mary's Island, Chatham
Now established with a strong sense of community, St Mary's Island comprises all the facilities you could ask for. Parklands at Azure, is the latest phase from Countryside, offering a range of four and five bedroom homes boasting a high specification and with many offering picturesque views of Upnor Castle. Prices at Parklands at Azure start from £484,995 for a four-bedroom home.
Horsted Park, Chatham
Occupying the site of the former Mid-Kent College, Horsted Park is a multi-award winning development, set within the picturesque Kent countryside. Ideally located to benefit from the amenities and travel connections in both Chatham and nearby Rochester, the development offers something for everyone, with a range of one and two bedroom apartments and three and four bedroom houses currently available. Prices start from £197,500 for a one bedroom apartment.
Willow Grange
Surrounded by diverse local countryside and overlooking the Weald landscape of Kent, Willow Grange is a collection of two, three and four bedroom traditional homes. Located in the quintessential village of Coxheath, purchasers can enjoy nearby spring walks in the High Weald, an area of outstanding natural beauty. Willow Grange perfectly complements the picturesque landscape it's surrounded by. Each home has been designed using influence from established local architecture, creating beautiful living spaces tailored to the needs of modern lifestyles. Prices for the homes at Willow Grange start from £360,000 for a three-bedroom home.
Kingsbridge, Headcorn
Located just nine miles from the surrounding towns of Maidstone and Ashford, Kingsbridge comprises a stylish collection of beautiful three and four-bedroom family homes overlooking the Weald of Kent. Boasting classic English village charm, with country pubs, quaint tea rooms, and a village green, Headcorn offers the perfect balance between country village living and urban amenities. Prices at Kingsbridge start from £360,000 for a three-bedroom home. Part Exchange is available at Kingsbridge.
Springhead Park, Ebbsfleet
Springhead Park is ideally located within Ebbsfleet Garden City, a pioneering development providing a fantastic opportunity to grow a civic community and business location where London meets the Garden of England.
Offering a choice of three and four bedroom homes, Springhead Park is served by a range of sustainable facilities and amenities, including the European high speed rail, network, which will identify Ebbsfleet Garden City as a prime destination in the UK for investment, innovation, recreation and leisure. Prices at Springhead Park start from £360,000 for a three-bedroom house.
For further information on each of the developments available in Kent by Countryside, visit countryside-properties.com.