Spain still number one for international buyers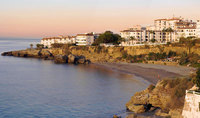 Spain is still number one for international buyers, reveals TheMoveChannel.com's latest Top of the Props index. Spanish property accounted for 1 in 10 of all enquiries on the portal in April 2017, stealing back the top spot from the USA. This is the second time that the country has been the most popular destination on the site in 2017, after it ranked first in February, with 14.02 per cent of enquiries.
Spain's return to the top of the chart is despite much speculation surrounding the impact of the UK's vote to leave the European Union upon British buyer appetites. Historically, UK buyers have been the biggest spenders on Spanish property. The country's appeal to a wide range of nationalities, though, remains undiminished: The Spanish Registrars' latest annual report shows that foreign transactions now make up a record 13.25 per cent of transactions, despite a dip in demand for British investors. On TheMoveChannel.com, Spain also accounted for 31 of the 50 most searched-for locations on The MoveChannel.com in Q1 2017 – an all-time high for any country.
Demand is also booming for Bulgaria, which surged 11 places up the Top of the Props index to steal fourth place. The country accounted for 4.09 per cent of all enquiries in May 2017, marking its first place in TheMoveChannel.com's Top 10 in seven months and its highest ranking in the Top of the Props index since February 2015.
May's biggest climber, though, was Malta, which jumped 13 places in the chart to become the 11th most popular country on TheMoveChannel.com. This is the island's first time in the Top 20 since August 2016, accounting for 1.45 per cent of enquiries, and its highest ranking since July 2013.
Portugal held onto fourth place, with 3.37 per cent of enquiries, while interest in Cyprus continued to climb, as the country rose into fifth place. Cape Verde climbed seven places to seize sixth spot, just ahead of Italy and Indonesia. France and the UAE completed the Top 10.
"Even with the more expensive buying costs for Brits brought about by Brexit, Spanish property's affordability is at its most appealing in 2017, as bottomed-out prices mean that capital growth is possible for investors," comments Dan Johnson, CEO of TheMoveChannel.com. "The same is true of Bulgaria, where prices are now rising steadily and the economy is similarly growing: both present overseas buyers with stable markets, potential for rental returns and rising values, and, of course, a life beside the seaside. Indeed, since the Brexit vote last year, we have seen a growing trend among some British buyers looking to Bulgaria for bargain opportunities that won't break the budget. Whether Bulgaria and Malta can stay in the Top 15 during 2017 is yet to be seen, but with overseas interest in Cyprus staying steady for the second month in a row, Spain is not the only bright spot in Europe this Spring."