Food with a view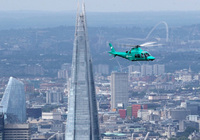 Charter-A Ltd and Deliveroo have teamed up to offer diners the opportunity to experience takeaway meals with a difference. Food fans in London will no longer be chained to dining tables or even their homes, thanks to a unique helicopter ride that will see appetites satiated at 1,000ft.
It might seem to be an unlikely partnership, but Mark Zaiger, owner of Charter-A Ltd, was delighted to be a part of something so unique: "From the moment they first approached us, Deliveroo have been amazing to work with," he said. "They are a young team and incredibly creative, and it has been fascinating to see the campaign from first thoughts to flight."
"We can now add Deliveroo to a strong list of successful corporate partnerships that also includes Nike and the National Lottery. We have seen a big increase in business enquiries as people's taste for never-forget experiences continues to grow, and we look forward to announcing new tie-ups soon."
Booking a flight on the 'Roocopter', an Augusta AW109 helicopter, wrapped in the recognisable Deliveroo livery, has proven extremely popular with the first day selling out in a matter of hours. With 48 diners taking to the sky to enjoy a favourite meal in front of numerous striking London landmarks, there's clearly a market for sky-high snacking – and those who have enjoyed a ride are waxing lyrical about the fun they've had.
TFL worker Sarah Cox said: "Flying past The Shard eating tacos is one of the most memorable meals and experiences of my life. I've never flown in a helicopter before and to do this over my lunch break has completely changed my week and my life. I hope it happens more – it's a great thing for our city."
Kimberly Allain, an NHS worker with no head for heights, even enjoyed the ride, saying: "I'm actually not even sure why I signed up for this, I hate heights! But I love food and it was something I will never forget."
Asked why the idea was put into motion, Deliveroo's Joe Groves offered some insight into why the Roocopter came into being: "At Deliveroo we want to bring amazing and memorable food experiences to our customers, wherever they are – be that a local park, office, the comfort of your home or 1,000ft in the air."
Click here for more information on Charter-A Ltd's helicopter charters.