Restaurants in Leeds heavily rely on social media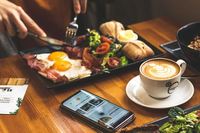 This conclusion was made based on a survey in Leeds from several restaurant owners. A lot of restaurants have had to close due to the pandemic, and only a fraction of them had established a new strategy, turning their premises into takeaways or even grocery shops. Several business owners have mentioned that their strong social media presence helped them change their business model in a very tight time scale and still whilst still maintaining their popularity with the locals. If they didn't have at least some social media presence before COVID-19, they probably wouldn't even reopen their business.
If you think about how street businesses operated in past, where every person in the close proximity knew the owner pretty well and everything that was going on with the business. You didn't need any social media, and this might still apply to small villages, but if we're talking about big cities, like Leeds, you need some sort of marketing plan. Social media marketing in Leeds is, thus, very important in order to notify your long term and potential customers of the changes within your business. During normal times, you would make special deals or release new products via Instagram, Facebook and Twitter. During a crisis you would ask for help and persuade your audience even more to forget about McDonalds and try your takeaway menu in order to support local businesses! Storytelling and becoming a trusted friend for your customer by showcasing behind the scenes on your social media allows businesses to create a strong community around your services or product.
Taking into account huge competition in big cities in order to stand out, your business needs to be present on social media. The more your product appears in front of your potential customer, the more likely they will buy your product. According to last year's statistics by Social Pilot, 72% of active Instagram users purchased a product after seeing it on the app. That's a very big number to take into account.
The power of social networks is also that, theoretically, you don't have to invest heavily in advertising. For example, Instagram allows you to interact with your restaurant visitors completely free of charge, provided they of course post stories or do regular publications that indicate your restaurant as a geolocation, tag your business directly or use your branded hashtag. You need to be active, communicate with your followers and publish interesting content. When we say "interesting", we don't just mean publishing photos of your dishes, but also showing the "backstage" of your business, introducing employees, suppliers and telling them more stories about your brand. If your only creating sales posts, you will soon lose even the most loyal of subscribers.
If you do not have time for professional social networking, then the best option would be to contact the agency. Fortunately, there are a number of high-quality and, at the same time, affordable social media marketing agencies for SMEs in Britain, including Yolka Digital, based in the heart of Yorkshire, Leeds.