Make your life as a landlord easy by hiring the pros to help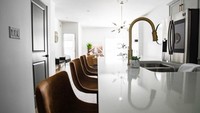 Landlords have obligations and responsibilities which can take considerable time and energy. It's not just as simple as laying back and waiting each month for the rent cheque.
With housing markets heating up and prices of a detached home in the Greater Toronto Area (GTA) climbing to over $1 million, even in a pandemic, now is a great time to be a landlord. But if you need professional assistance that takes the stress away and gives you back your time, call a professional property manager.
Here's what they'll do for you.
Tenant Selection
How do you know who your tenant is before they've moved in? Experienced professionals know how to do a thorough background check to verify that the prospective tenant is who they say they are and will make a great tenant.
You can have faith that your tenants will be reliable and trustworthy after they've cleared the multi-phase selection process:
- Employment Letter: Verifies that the candidate works where they say they do and helps confirm their level of responsibility and income.
- Credit Bureau Report and Credit Check: How prospective tenants respond to their other financial responsibilities provides a window into how they'll handle yours. A candidate who misses credit payments may cut a rent cheque, too.
- Reference Check: Get the full story by asking people who know the prospective tenant. Family, friends, and especially past landlords have vital information.
- Tenant Application: Receive the basic background information for candidates without dealing with this mundane process yourself. Landlords get final approval, of course.
Companies like PMT service areas are expanding as housing in Toronto and the GTA increase in price.
24/7 Help
Do you really want to be constantly available 24/7 in case something in the property needs repairs? Having a professional management company saves you from having to worry that at any given moment, your life could get disrupted by the need to attend to your property.
Professional management companies provide expert help around the clock. The best ones have a few contractors on call, so if something needs fixing, they will present the landlord with options for repairs at different price brackets.
Your property will stay in good condition, while tenants will never feel neglected or unheard. This level of service is crucial since a happy tenant is likelier to remain in the unit for the long term.
Tenant Relations
Professionals property managers handle the day-to-day processes like collecting rent, overseeing maintenance requests, and more. Tenants need to feel like their needs are met and like they have reliable support.
Professional property managers give peace of mind to landlords and tenants, too, making everybody happy.
Marketing
It's hard to create and place an ad that casts your property in the best light. Experienced professionals have experience doing it, and you can take advantage of their online networks and connections in the magazine world to place your ad prominently.
Being a landlord takes work, and there are significant social responsibilities that need to be met. Find a professional property manager near you to make being a landlord easy and stress-free.