Robin Hood returns for second series in 2007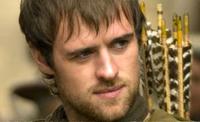 Robin Hood, BBC One's new hit Saturday night family drama, has been recommissioned for a second series. Starring Jonas Armstrong, Lucy Griffiths, Keith Allen and Richard Armitage, Robin Hood has captured the heart of its audiences in one of the most competitive slots on TV since the transmission of the first episode on 7 October 2006, averaging an audience of 7 million for the first seven episodes.
Robin Hood, made by Tiger Aspect Productions, is an action packed adventure full of humour and romance. The new 13-part series will once again be written by Dominic Minghella.
Jonas Armstrong will return as the cheeky hero Robin Hood, who outwits and fights the evil Sheriff of Nottingham - Keith Allen - with outrageous scams, disguises, tricks and ingenuity, breathtaking archery and swordplay.
Also returning are Lucy Griffiths as the feisty kick-ass Marian, Richard Armitage as the Sheriff's sadistic lieutenant, plus the gang of outlaws: Sam Troughton as Much, Gordon Kennedy as Little John, Joe Armstong as Allan A Dale and Harry Lloyd as Will Scarlett.
Jane Tranter, Controller of BBC Fiction, said: "The cast have engaged and delighted a whole new generation with this fresh and modern retelling of Robin Hood.
"Keith Allen's captivating portrayal of the menacing Sheriff coupled with the great performances from our young cast headed up by Jonas Armstrong equals compelling drama."
BBC One Controller, Peter Fincham, said: "Robin Hood has been a big hit with family audiences, playing in a tough slot on the most competitive night of the week.
"I'm thrilled that we have a new series to look forward to next year."
Foz Allan, Executive Producer, Tiger Aspect, said: "We are delighted to be returning and that audiences seem to have really taken to the series and its characters.
"What is exciting and continues to be exciting about Robin Hood is not only Dominic Minghella's scripts, but working with such fantastic new young talent."
Robin Hood will be executive produced by Foz Allan and Dominic Minghella for Tiger Aspect and Sarah Brandist for the BBC.
Filming is due to start in Budapest in Spring 2007 and the series will hit TV screens later next year.
The remaining six episodes of series one will continue to transmit on Saturday nights at 7.10pm on BBC One.