Get Into The Festive Spirit With Music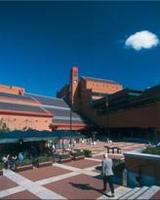 Cher, The Beatles, Meatloaf, The Beautiful South, Phil Collins… All of these artists have scored Christmas Number Ones in the album charts. So which act is the Christmas turkey and which is at the top of the tree? Decide for yourself by rediscovering the bestselling albums of Christmas past with the British Library's Pop Goes The Library exhibition supported by The Official UK Charts Company. The display includes every album to reach number one since UK album charts began, including every album that has ever hit the top spot at Christmas time.
More than 20% of albums purchased throughout the year are sold in December alone and the exhibition offers a fascinating insight into what albums people have found in their Christmas stockings over the years, either at their own request or as the beneficiary of kindly-intentioned relatives. So who had Meat Loaf with their mince pies in 1993? And how many people were delighted to discover Robson & Jerome's eponymous debut offering in their Christmas stockings in 1995?
Whether their success is due to cannily timed releases aimed at Christmas shoppers, or their status as the UK's most wanted, several artists have repeatedly made it to the festive top spot. The Beatles have notched up seven Christmas number one albums, with John Lennon's posthumous collection also hitting the Number One position in 1982. Robbie Williams has topped the album charts at Christmas three times, with Abba, Queen and Sir Elton John each reaching the peak position twice. Sir Cliff Richard, regarded by many as the quintessential Christmas crooner, has actually only achieved a Christmas number one album once, having considerably more success with his Christmas singles.
The first Christmas number one album in 1956 was the original soundtrack to The King and I, which remained at the festive top spot in 1957 before being toppled the following year by the South Pacific soundtrack - Christmas number one album three years running, from 1958 to 1960. The 1980s saw a surge in popularity for a number of Various Artists' compilations which topped the Christmas charts from 1983 to 1987. Last year's most popular Christmas album was Eminem's Curtain Call – The Hits.
Andy Linehan, Popular Music Curator at the British Library, comments, "The British Library Sound Archive aims to collect and preserve copies of every recording commercially issued in the UK, and our extensive reference library and online services make us the premier public research facility for pop music in the UK. With over 10,000 tracks to choose from, the Pop Goes the Library audio exhibition is a fantastic opportunity to discover how the nation's musical tastes have changed over the last 50 years. At this time of year, it is also a great chance to get an insight into the musical purchases of the nation's Christmas shoppers over the decades."
Christmas number one albums 1956 – 2005:
1956 The King and I - Original Soundtrack
1957 The King and I - Original Soundtrack
1958 South Pacific - Original Soundtrack
1959 South Pacific - Original Soundtrack
1960 South Pacific - Original Soundtrack
1961 Another Black and White Minstrel Show - George Mitchell Minstrels
1962 The Black and White Minstrel Show - George Mitchell Minstrels
1963 With the Beatles - The Beatles
1964 Beatles for Sale - The Beatles
1965 Rubber Soul - The Beatles
1966 The Sound of Music - Original Soundtrack
1967 Sergeant Pepper's Lonely Hearts Club Band - The Beatles
1968 The Beatles - The Beatles
1969 Abbey Road - The Beatles
1970 Andy Williams Greatest Hits
1971 Electric Warrior - T. Rex
1972 20 All Time Hits of the 50's - Various Artists
1973 Goodbye Yellow Brick Road - Elton John
1974 Elton John's Greatest Hits
1975 A Night at the Opera - Queen
1976 20 Golden Greats - Glen Campbell
1977 Disco Fever - Various Artists
1978 Grease - Original Soundtrack
1979 Rod Stewart – Greatest Hits Vol. 1
1980 Super Trouper - Abba
1981 The Visitors - Abba
1982 The John Lennon Collection - John Lennon
1983 Now That's What I Call Music - Various Artists
1984 The Hits Album/The Hits Tape – 32 Original Hits - Various Artists
1985 Now – The Christmas Album - Various Artists
1986 Now That's What I Call Music 8 - Various Artists
1987 Now That's What I Call Music 10 - Various Artists
1988 Private Collection 1979-1988. - Cliff Richard
1989 … But Seriously - Phil Collins
1990 The Immaculate Collection - Madonna
1991 Greatest Hits II - Queen
1992 Cher's Greatest Hits: 1965-1992
1993 Bat Out of Hell II – Back Into Hell - Meat Loaf
1994 Carry On Up the Charts – The Best of the Beautiful South
1995 Robson & Jerome - Robson & Jerome
1996 Spice - Spice Girls
1997 Lets Talk About Love - Celine Dion
1998 Ladies & Gentlemen – The Best of George Michael
1999 Come On Over - Shania Twain
2000 1 - The Beatles
2001 Swing When You're Winning - Robbie Williams
2002 Escapology - Robbie Williams
2003 Life For Rent - Dido
2004 Greatest Hits - Robbie Williams
2005 Curtain Call – The Hits- - Eminem
The British Library is the national Library of the United Kingdom. It provides world class information services to the academic, business, research and scientific communities and offers unparalleled access to the world's largest and most comprehensive research collection. Further information is available on the Library's website at www.bl.uk