Daisy Does America! From NY To LA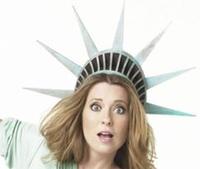 British actress and comedienne, and former member of the Ali G Show, Daisy Donovan is back on British TV screens and she's taking America by storm in her own inimitable style, from New York to LA and all places in between. From country singing to bounty hunting Daisy tries to fit in and learn each one with panache, with hilarious consequences…
In this unscripted show, adapted from her UK show Daisy, Daisy, Daisy chases the "American Dream" by blending in with the ordinary people while at the same time poking fun at the individuals she is working with. Trying her hand at being a bounty hunter, a country and western singer, a rapper, a dog show handler, a beauty pageant participant, a poker wife and a psychic, Daisy takes each one in her stride as she endeavours to delve into the American Dream.
In episode 1, Daisy tries her hand at being a bounty hunter – and learns from the best in the business and gains her diploma – but then needs a job. When enquiring as to what she can and can't do as a bounty hunter, she cuts to the chase with her questions and choice of technique:
"I'd take them down with a glockenspiel" (on what she'd do if someone got violent)
"How many doughnuts do you get through?" (on the bounty hunter's diet)
"Can you spit on someone?" (on detaining someone)
"When do I do the cough and drop?" (on technique, about wear she can grab them!).
Exclusively on LIVINGtv2 – starting 18th February, 9pm.