Life On Mars Returns For The Last Time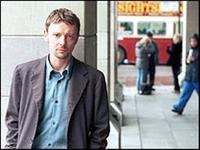 Sam Tyler's Seventies time-travel continues as Life on Mars returns for the last time, with guest stars including Marc Warren, Georgia Taylor, Kevin McNally, Ray Emmett Brown, Eva Pope and Ralph Brown.
The International Emmy Award winning series, Life on Mars is back for the last time as John Simm returns as DI Sam Tyler, the time travelling detective who, after a car accident, found himself in 1973.
Returning alongside Simm for the final series, are Philip Glenister, Liz White, Dean Andrews and Marshall Lancaster as Tyler's Seventies colleagues, who are only just getting to grips with the DI's new-fangled ways of investigating crime.
The first series of Life on Mars, which regularly attracted audiences of over 7.5 million and plaudits from the broad spectrum of critics, won best drama series at the International Emmy Awards in November 2006.
Creator, writer and executive producer, Mathew Graham was thrilled and explained: "We have had such a fantastic response to Life on Mars from viewers and critics alike and this award is the icing on the cake! When it was announced I'm sure that Sam Tyler, Gene Hunt and the gang were splashing on the Old Spice, donning their flares and opening the Party Seven - celebrating in proper, Seventies style!"
The second series marks the thrilling finale of the smash hit show and viewers will finally learn the truth about time travelling DI Sam Tyler (Simm) and how he came to be stuck in 1973. However, fans will have to keep watching until the end of the series on BBC ONE before their speculative theories are laid to rest.
Executive producer and joint MD of Kudos, Jane Featherstone, said: "Obviously, we will not be revealing in advance what eventually happens to Sam, as we wouldn't want to spoil everyone's enjoyment of the second half of his story when they watch series two. But they can certainly expect some shocking revelations along the way. We have even filmed two endings because we want to keep everyone guessing until the very end."
Executive producer Claire Parker comments: "The boys are back with a kick and a punch!
"Series two of Life on Mars is even darker and more surprising than before and still liberally sprinkled with humour and more of Gene Hunt's 'insightful' words of wisdom!
"Whatever the audience thinks they know will be challenged and we will certainly still want to keep the audience guessing. There will be more revelations that will help Sam to work out why he is in 1973 but there will also be some shocking surprises that will rock Sam's world, both in 1973 and 2007."
The forthcoming series has attracted a wealth of talented guest stars such as Marc Warren (Hustle), Kevin McNally (Pirates of the Caribbean) and Georgia Taylor (Blackpool), queuing up to don their flares and travel back to 1973.
Sam is slowly adjusting to his new surroundings and seems to be trying to fit into the team but DCI Gene Hunt (Glenister) has had no such change of heart and is still as brash and hard on Sam as ever; lambasting his continual 'by-the-book' approach to procedures and is insistent that they stick to following his gut instinct when it comes to catching criminals.
Gene's 'maverick' methods are closely observed by his protégé DS Ray Carling (Andrews) and eager to please DC Chris Skelton (Lancaster).
WPC Annie Cartwright (White) remains the only sane voice in Sam's mixed up world. However, she is intent on proving that she is not just a pretty face and is keen to show she can cut it just as well as the boys.
Gene's desire to rid Manchester of criminal scum is as strong as ever; never more so than now, as his mentor, Superintendent Woolf (McNally) is back at the station.
However, Sam is astonished to find that his own mentor and inspiration, Chief Inspector Glenn Fletcher (Emmet Brown, Outlaws) has also joined the team; although he is just a fresh-faced, new recruit in 1973, dealing with the extra pressure of the racist attitudes of his new colleagues.
Marc Warren, as you've never seen him before, guest stars as Tony Crane another ghost from Sam's 'future past'. Crane is a sleazy casino owner who runs a line in counterfeit cash. It's not until Sam recognises the danger that Crane's girlfriend, Eve (Yasmin Bannerman, 55 Degrees North), is in, that he realises the urgency of banging the slippery suspect to rights. But, he faces the tough job of convincing DCI Hunt they've got the right man.
Co-creators and writers Matthew Graham and Ashley Pharoah and writer Chris Chibnall all return to this new series of Life on Mars alongside three new writers to the series; Julie Rutterford (Hustle, Teachers), Guy Jenkin (The Private Life of Samuel Pepys, Drop the Dead Donkey) and Mark Greig (Afterlife, Inspector Lynley Mysteries).
Series two is directed by SJ Clarkson, Richard Clark and Andrew Gunn and the producer is Cameron Roach (Footballers' Wives). Claire Parker, producer of series one, is now a co-executive producer with Jane Featherstone and Matthew Graham.
Series two of Life on Mars is due to transmit on BBC ONE in February.