Flashy and Trashy: Hotel Babylon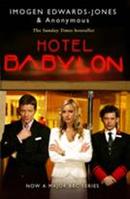 Indulge yourself at Hotel Babylon, a place where money not only talks but can buy you just about anything you desire - the hottest hotel on telly, where decadence and debauchery is all part of the service.
Tamzin Outhwaite and Max Beesley star in this tantalizing and seductive insight into the sexy world of the luxury five-star hotel industry, revealing life beyond the glamour and façade of the smiling faces and glittering chandeliers.
Based on Imogen Edwards-Jones and Anonymous' searing exposé of life behind the scenes of the luxury hotel industry in London, Hotel Babylon delves deep into the frenetic, non-stop hidden culture of the hotel staff, from the discreet concierge to the flamboyant bar managers – everyone has a story.
Rebecca Mitchell is the hotel's driven and ambitious General Manager who is determined to keep the profit margins more than above average. Running a tight ship ensures that guests and staff are rewarded but is work taking its toll on her private life?
Deputy Manager Charlie introduces us to a world of fantasy and indulgence and a world where you can be who you want to be as long as you have the money to pay for it … and know who to ask!
With a glittering array of guest stars including Joan Collins, Steven Berkoff, Keith Allen, Les Dennis and Susie Amy to name but a few, Hotel Babylon is a fantastic expose of a world of hedonism and excess.
Check-in and enjoy all 8 fabulous episodes of Series 1 on this 3-disc DVD and extra features include a commentary with the director and producer and a 'making of' feature.
RELEASE DATE: 19TH FEBRUARY 2007
PRICE: £29.99
CAT. NUMBER: BBCDVD2171
CERT: 15