Saving Planet Earth: £1Million & Rising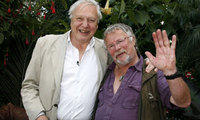 BBC's Saving Planet Earth season, which culminated in a live fund-raiser last Friday on BBC One, has raised over £1million so far for the BBC's new charity the BBC Wildlife Fund to help save planet Earth's wildlife.
Over 20 million people have tuned into the fortnight of Saving Planet Earth documentaries which highlighted the plight of endangered wildlife across the globe.
Bernard Mercer, chair of the BBC Wildlife Fund said: "This is a great start for the BBC Wildlife Fund which plans to fund wildlife conservation projects in the UK and overseas and we're very grateful for the generosity of the public who have donated so far.
"However, the fund-raising will continue beyond tonight. People can still show their love and support for animals and wildlife by donating the fund as all the donation mechanisms will be staying live until September."
Some of the celebrities who reported on the conservation project for Saving Planet Earth – including Jack Osbourne, Carol Thatcher, Fiona Bruce, Phil Tufnell, and Saira Khan – joined hosts Alan Titchmarsh and Graham Norton at Saving Planet Earth – Live at the Royal Botanic Gardens, in Kew, London.
In an exclusive interview with Alan Titchmarsh in Saving Planet Earth - Live, David Attenborough said "How can we look our grandchildren in the eye and say 'I didn't bother?'"
Highlights of the evening's entertainment included live performances from a wide variety of musicians including Natasha Bedingfield, Beverley Knight, Avril Lavigne, Manic Street Preachers and Katherine Jenkins and Juan Diego Florez who sang a duet of 'What A Wonderful World' for the first time.
BBC natural history presenters Kate Humble, Michaela Strachan, Simon King, Charlotte Uhlenbrook, Bill Oddie, Steve Leonard and Jonathan Scott were on hand to explain the threats to wildlife.
Neil Nightingale, Head of The BBC's Natural History Unit said: "Saving Planet Earth aimed to raise awareness of the extinction crisis facing the natural world and what we can all do to help prevent it. I'm delighted that so many have watched these programmes and the audience response has been so overwhelmingly positive."
Les Dennis, Jon Culshaw, Michaela Strachan, Jeremy Edwards and Kelli Young, the team of celebrities who tackled the Tusk Safaricom Marathon in Kenya were there to share the results of their gruelling ordeal in one of the world's toughest marathons.
Rolf Harris, Anneka Rice and Mark Speight painted new works of art against the clock on the night to raise funds for the BBC Wildlife Fund.
Still to come is a further week of Saving Planet Earth programmes on BBC Two – the best of the Saving Planet Earth – UK programmes presented by Michaela Strachan from 9 to 16 July which focuses on the plight of endangered wildlife in the various UK regions.
And on 9 July on BBC One there's Running Wild which follows the trials and tribulations of the Saving Planet Earth celebrity team who took part in one of the world's toughest runs.
The public can donate to the BBC Wildlife Fund by logging on to bbc.co.uk/savingplanetearth, or by sending a cheque to BBC Wildlife Fund, PO Box 60905, London, W12 7UU.