Olive Branch Pub Named 'Michelin Pub Of The Year 2008'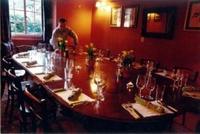 The Olive Branch & Beech House in Clipsham has been selected as the Michelin Pub of the Year 2008 in Michelin's Eating Out in Pubs guide which is launched today 5 September 2007.
Selected from nearly 600 entries in this year's guide - all of which serve good food - the Olive Branch and Beech House, their newly opened luxurious bed & breakfast venue opposite the pub, stood out for their 'real star quality', according to the Michelin citation.
The Olive Branch pub, roughly 100 miles north of London and only 2 miles off the main AI arterial road, was converted from three farm-workers' cottages and several distinct areas are still in evidence, each one cosy and full of character, with log fires and furnished with church pew seats. Champagnes and wines are available by the glass, as is refreshing homemade lemonade; and the choice of real ales includes the pub's own label, Olive Oil.
A passion for good food means that high quality produce and seasonal ingredients are the foundation of every dish and a local map on the menu lets you know exactly where your food has come from.
This is not the first time the Olive Branch has been recognised by Michelin for its outstanding quality, having been the holder of a Michelin One Star award since 2002, but this new prestigious accolade confirms their status as one of the leading pubs in the UK. Beech House, too, although only opened last Autumn, has already been given an AA 4 Star Inn 2006 rating, while their sister pub, The Red Lion Inn at Stathern, Leicestershire, holds the Michelin Bib Gourmand and AA Pub of the Year 2006 awards.
Across the road in Beech House are six bedrooms with 'gourmet' names such as Chocolate, Double Cream and Biscuit. Furnished with antiques and contemporary fabrics, every detail has been thought of, like homemade biscuits, magazines and flowers. Breakfast is served by the log fire in the Olive Branch barn and includes local farm eggs, fruit smoothies and homemade preserves.
The Olive Branch & Beech House is located at Main Street, Clipsham, LE15 7SH.
Log on to Theolivebranchpub.com for more information.