Fifteen Cornwall reaps Eden coffee bean harvest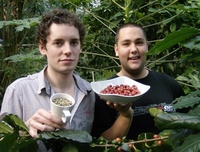 Fifteen Cornwall has taken it's pursuit of finding the freshest and tastiest local ingredients one step further by harvesting coffee grown in Eden's Rainforest Biome, in their bid to make what is believed to be one of the first cups of coffee made from beans grown in the UK.
Fifteen Cornwall is committed to sourcing at least 80% of the ingredients on it's menu locally, but the quest for Cornish coffee beans provided an apprentice chef with a sourcing trip with a difference on Monday (17th December) when he rolled up his sleeves and helped to pick a harvest of coffee 'cherries'.
The Cornish coffee experiment has been led by Fifteen Cornwall's Bar Manager Tristan Stephenson, who recently saw the coffee -which grows as small red 'cherries' - being grown in the Rainforest Biome at Eden and was inspired to produce a cup of hot steaming coffee using the Cornish grown beans at the bar in the beachside restaurant at Watergate Bay.
After enlisting the help of Cornish coffee merchants Origin Coffee, Tristan teamed up with the Eden Project to make his dream of a truly Cornish coffee a reality. After a trial run a couple of weeks ago to pick and naturally dry a small quantity of cherries, Tristan and his team of pickers returned to Eden for the larger scale harvest.
All of the coffee at Eden is located in the Rainforest Biome which ranges in temperature from 20°C-30°C and also simulates an altitude higher than its actual level which makes it the ideal environment for growing coffee.
Amongst the fifteen hundred species of plants in the biome, the horticultural team have created Robusta and Arabica coffee plantations which have grown at Eden for seven years. In a bid to create his ultimate cup of coffee Tristan opted to harvest the Arabica beans grown high up in the biome for their well rounded taste.
Tristan Stephenson said: "Coffee traditionally comes from very hot humid countries so it's amazing to think that we can harvest, process and roast coffee grown right here in Cornwall. Picking the cherries containing the coffee beans was an absolute joy, for a short while it really felt like we were up in the hills in Ethiopia!
"I hope that our Cornish coffee harvest will help people to appreciate the amount of work that goes into growing, picking and processing the beans. Whatever types of coffee you drink the initial stages of getting it from the plantation to the dried bean is the same. It's certainly a great learning experience for our apprentice chefs who will have the rare opportunity to see the whole process from bush to cup and I hope it will inspire them to see coffee in a whole new light."
Fifteen Cornwall apprentice chef Andrew Basso, 18 from St Blazey said: "I've been to Eden before but never to pick coffee so I was really excited about coming here today. I'd not really thought about where coffee came from previously and have only really got into drinking the quality stuff since joining Fifteen where I had my first espresso. I'm looking forward to using coffee more in the kitchen and can't wait to try it out in some desserts."
Straight after the harvest at Eden no time was wasted in getting coffee cherries straight into the kitchen at Fifteen Cornwall to start the laborious task of processing the cherries before they started to rot. The cherries were pulped to remove the beans, which over the next week will be dried until the moisture content is reduced to between 10-12%.
After the beans have reached the crucial moisture content they will be stored in a cool dry container to prevent further drying ahead of being roasted and ground in the New Year using special equipment sourced through Origin Coffee.
A coffee cupping session will be held at Fifteen Cornwall when Tristan and some of the apprentice chefs will sample the fruits of their labour and decide if the coffee produced is perfect on its own, or if blending with other non-Cornish beans is necessary to get the well rounded taste desired.
The small amount of truly Cornish coffee will be used by Fifteen Cornwall's Bar Manager during his entry for the UK Barista Championships in February. It is anticipated that coffee will also be available in the Fifteen Cornwall restaurant for a limited period.
Don Murray, curator of Eden's Rainforest Biome said: "As part of Eden's interpretation information we explain the issues around fairly traded coffee so it's great to work with our friends at Origin Coffee and Fifteen Cornwall on this experiment. I'm certainly looking forward to tasting a cup of proper Cornish coffee, the final stage of the process from seed to bean and to cup."
For Fifteen Cornwall reservations and menu information visit Fifteencornwall.co.uk.