Found Spa opens at Humber Valley Resort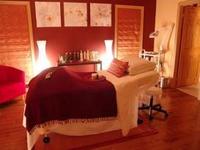 Relaxation at Humber Valley Resort is now even easier with an opportunity to truly self-indulge at Found Spa. The Aveda Concept Spa has opened at this luxury development situated in the tranquil woods on the banks of the Humber River in Newfoundland, Canada.
The four treatment rooms are inspired by the resort's natural surroundings and incorporate elements of earth, fire, water and air.
"We wanted to create the ultimate relaxation experience at Humber Valley" comments Mike Clewer, the resort manager. "The resort is located in such a peaceful setting that creating the Found Spa was a natural progression. The treatments are designed to help people wind down and escape the stressful trappings of everyday life".
Located on the banks of Deer Lake, the spa's deck extends to the water's edge and the grounds include tranquil gardens where guests can relax before and after treatments. The complimentary hot tub allows visitors to enjoy a relaxing soak in a secluded glade.
Treatments are designed for both men and women and the large variety on offer includes facials, massages, waxing, full body, hand and feet treatments. The rooms can accommodate two people should you wish to share the experience with a friend or loved one.
As an accredited Aveda Concept Spa, Found is in synergy with the environment and all products use natural ingredients and come in recycled packaging.
Humber Valley Resort incorporates luxury chalets and apartments surrounded by forest, set high on the mountainside with a glorious view of the valley. Some properties are woven into the 18-hole championship golf course, or located directly on Deer Lake.
For more information about Found Spa or buying property Humber Valley Resort, visit newfoundproperty.com.