Buy one property and play seven golf courses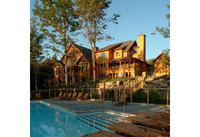 Le Grand Lodge at Mont Tremblant, Canada, has seven golf courses nearby including two rated in the country's Top 10 as recently as 2005. Canadians themselves regard Mont Tremblant as a top leisure destination, with its year-round attractions such as skiing in the winter and walking, cycling, sailing, fishing and, of course, golf in the summer.
Just five minutes from the resort town of Mont Tremblant is a lakeside development built in 1998 to four-star standards, featuring Canadian-pine log architecture and panoramic views of Lake Ouimet and Mont Tremblant.
Overseas Homesearch is selling a number of properties at Le Grand Lodge. Philip Barker, managing director of Overseas Homesearch, says, "At Le Grand Lodge the property prices have increased steadily in the area in recent years and this resort development presents a great opportunity to buy property in North America. I'd say there are three reasons for this. First, is the excellent quality of design and materials. Second, is the fact that Mont Tremblant offers great activities for outdoor enthusiasts whatever the season. And third, well, where else would you find seven top-quality golf courses to choose from?"
There are 45 apartments available through Overseas Homesearch at Le Grand Lodge, including studios, one- and two-bedroom properties, ranging from 47.56 to 80.08 sq m and priced from CAD$252,000 to CAD$399,000 (UK£119,431 to UK£189,100).
The apartments are finished to a high standard with fully equipped kitchens, modern bathrooms, cable TV, high-speed internet access, underfloor heating and stone gas fireplaces. There is also a range of optional furniture packages available.
Within the resort is a business centre comprising 11 meeting rooms, spa facilities – including a 20 m indoor swimming pool, his and hers steam baths, a sauna, a gym – and two restaurants: the fine-dining Chez Borivage and the more relaxed Le Whisky Bar.
Situated in the province of Quebec in eastern Canada, Mont Tremblant is relatively easy to get to from the UK, being only 75 minutes from Montreal, 90 minutes from Newark and Toronto and 120 minutes from Ottawa.
Overseas Homesearch is also selling fractional freehold property in Mont Tremblant. Storied Places is a development of 11 town houses overlooking the picturesque valley and Lake of Tremblant. A 10 percent fraction at this development can be purchased for CAD$265,000 (approx. £121,000).
Phil Barker remarks, "With a fractional ownership option, owners may enjoy a large, prestigious mountain home with top-quality services and facilities at a modest price. An added benefit is that owners can trade their planned weeks with other Storied Places homeowners in other locations such as Whistler, Lake Tahoe, Aspen and Sandestin at no added cost. However, fractional ownership offers the same benefits as any other type of real estate ownership with great potential for capital growth and freedom to re-sell when desired."
The seven golf courses near Mont Tremblant are:
Tremblant Le Diable: a par-71 Arizona-style course located alongside the picturesque river, next to Le Grand Lodge Mont-Tremblant. Yardage = 7,056. Voted one of the Top 10 golf courses in Canada in 2005.
Tremblant Le Géant: with 2 artificial lakes, 52 pristine white sand traps and cleverly designed plateaux, the par-72 Le Géant provides a memorable golf experience. Yardage = 6,836. Voted one of the Top 10 golf courses in Canada in 2005.
Le Maître: a par-72 Fred Couples-signature course; offers over 260 acres of scenic riverfront with dramatic elevation changes, glorious vistas, dense forests and pristine waterways. Yardage = 7,069.
La Manitou: a new par-58 executive championship course built along the Diable River in a pine forest interspersed with marshes and sand dunes. Yardage = 3,400.
Gray Rocks-La Bête: winding along the Diable River and pine-filled plateaux, Gray Rocks-La Bête is a par-72 championship course. Yardage = 6,825.
Gray Rocks-La Belle: a renowned, 78 year-old classic mountain course that will appeal to all levels of player. Golfers can walk or ride the par-72 course. Yardage = 6,270.
Golf Royal Laurentien: a par-71 championship golf course located south of Mont-Tremblant and rated as one of the top 10 courses in Quebec. Yardage = 7,000.
There is also a Tremblant Golf Academy with specialised facilities and true-to-game course conditions.
For further information about properties for sale, visit overseashomesearch.co.uk.