Luxury log homes in Canada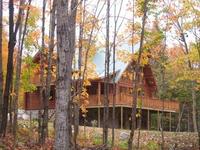 Vivaldi Resorts launches Ogilvy Lakes this autumn 2007 - an exclusive selection of 100 freehold luxury Canadian log homes set in nearly 600 acres of forested mountains in Quebec.
Ogilvy Lakes is 1.5 hours from Ottawa, five minutes from the nearest skiing trails and just 20 minutes from the world-famous Mont Tremblant Resort with its own international airport.
Two pristine spring-fed lakes surrounded by breath-taking mountains, provide the backdrop to these beautiful and luxuriously-appointed homes and the four-season outdoor lifestyle they conveniently access. Woodland trails for walking and winter sports including snowmobiling and dogsledding, swimming, fishing and sailing and are on the doorstep. A private 18-hole golf course, one of the most scenic in the area, is part of a resort which also features arestaurant and state-of-the-art gym and spa facilities.
Ogilvy Lakes is Vivaldi's second project following the phenomenal success of Blueberry Lake Resort in 2003. Blueberry Lake Resort was an entirely new approach to holiday home ownership in the Laurentian Mountains and reservations on phases 1, 2 and 3 were made within three weeks of their launch into the UK market. Onward sales of completed houses have shown capital growth of up to 40% in four years.
As with Blueberry Lake Resort, Ogilvy Lakes investors buy houses off-plan from a selection of three luxury designs. A traditionally-built Canadian log home of exceptional quality is then constructed within one to four years (depending on the order of the bespoke build schedule). The result will be a substantial 2,350-3,250 sq ft, with four or five bedrooms, and situated on an individual plot of at least one acre. The finished houses will be fully equipped with every modern amenity – including 42" plasma TV, pool table and hot tub – and fully furnished with luxury contemporary furniture.
Prices start at £279,000 – a cost per sq ft that represents excellent value for money against traditional winter destinations such as the Alps and summer destinations such as Spain and Portugal. Buyers can also choose to put their property into the resort rental pool for added income. Guaranteed income of 7% or fully-paid mortgages for up to five years are two further benefits of investing in Ogilvy Lakes.
Alex Porritt, managing director of Vivaldi says; "The vast majority of owners are so happy with their purchase that they are holding it for the long term, seeing it as a sound investment both economically and as a family base for years to come. That shortage of resales has also helped to drive capital values. Only a few have sold so far and they have risen in price by up to 40% just one year after completion. "Some of our customers tell us that the biggest risk to their investment is that they become too attached to the place and that they will never want to sell"
For further information, floor plans and photos please visit ogilvylakes.com and blueberrylake.com