Why Canadian land could be a lot safer than Northern Rock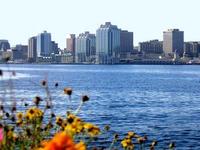 Whatever soothing noises might be coming out of the Treasury, the past few weeks have brought about a fundamental change in the financial landscape of Britain. We may have seen the value of our pensions slashed and the sale price of our properties skidding to a halt but up until now, most of us have assumed that money in the bank was, as it were, safe as houses. Northern Rock has changed all that, so where is it best to put our money? Land investment may not seem like the obvious choice and Canada is unlikely to be the first location springing to investors' minds but there are strong reasons why the two combined can offer high returns.
The assumption that banks don't go bust is being challenged in every sector of society: you only had to look at the images of long queues waiting outside Northern Rock branches to confirm that suspicion. And when the dust finally clears, and the true cost of Northern Rock's financial problems becomes known, high street bank customers throughout Britain will be taking a long hard look at their savings – and thinking again about where to place them. Savers' money is protected by legislation up to £35,000, a guarantee that Mr Darling has said could increase to £100,000, but those with more than that amount sitting in a particular bank will be thinking about spreading their load, either by opening accounts with other banks or redirecting their investments.
Given the current shaky nature of financial markets the world over, investing in shares doesn't quite hold the same attractions it once did. Even shrewd market players can be caught out by global events which see across the board prices tumbling, and there's always the chance of waving that secure old age goodbye. Property, as we know from the near-daily jittery press reports, is not the rags to riches tale of a couple of years ago. Values have slowed right down across much of the country, particularly in the south east, and at best there will be a period of stagnation on house prices.
In fact a recent report from the Royal Institution of Chartered Surveyors (RICS) suggested there was a "one in 10 chance of a 1990s-style housing market crash in the UK," and predictions for growth in prices over the next year were at no change – with a 10% drop in prices likely in London. Even those looking to buy in emerging markets overseas will struggle to find a sure thing. Markets like Bulgaria and Dubai appear to have passed their peak for profit margins.
Which leaves land investment. Traditionally land investment and development has been the preserve of the super wealthy such as Donald Trump or developers with years of expertise, but specialist land company Landcorp International has opened up the opportunity to lower level investors. Ailse MacFarlane, Marketing Director of Landcorp International which was formed specifically to source lucrative land opportunities across the globe and offer them to a wider audience, comments, "We offer first time and seasoned investors a rewarding way to participate early in land development and benefit from the significant gains that can be made. Essentially we are raising development capital for the developer in order to achieve planning permission and develop faster than otherwise possible through conventional financing. The value of land increases exponentially once planning permission has been given and via Landcorp International investors can share the profits alongside the developer."
Ailse continues "Landcorp only offers land with a clear path to development, and emphatically does not offer greenbelt, agricultural or protected land for sale. The developer is essentially giving up a share of future profits in return for funding now – a win-win situation for both the investor and developer."
Investing in land is viewed with some suspicion in Britain, largely because plenty of schemes have been marketed for land which has almost no chance of being built on – so the investor will never realise his original stake, let alone a profit. Things are a little different in Canada – a country where land is in plentiful supply. Its near-four million square miles makes it the second-biggest country in the world (Britain occupies 50,000 square miles), and with a population of only 33 million (just over half that of Britain), there's a lot of room to expand.
On the Market in Canada
Landcorp International's latest opportunity – Forest Lakes Country Club in Nova Scotia – offers the chance to invest in a slice of North America's most beautiful country. Around 1,000 acres of tranquil and stunning countryside set on Canada's east coast and teeming with wildlife has been made available for purchase at £11,500 a half-acre. The developer is releasing just 30-35% of the land to raise development capital and projections show the land will be valued at £40,000-£50,000 – up to 300 per cent profit – once the developer secures planning permission, which is anticipated for 2010 or soon afterwards. The site is already zoned to permit development of residential units and a variety of commercial and recreational facilities. The required modifications are expected to be granted without difficulty.
Once planning permission has been secured, Investors will have the option to take their profits or to buy into Forest Lakes at a favourable rate with its different types of housing and full amenities including a 40 acre private lake, boutique hotel and 18-hole golf course.
Ailse MacFarlane of Landcorp concludes "There are a limited number of half acres at £11,500 and the price of the land will increase as the developer progresses towards securing planning permission so early investors will enjoy the highest profits. Moreover, UK investors can avoid capital gains tax by placing the land within a Self Invested Personal Pension (SIPP)."
For further information, visit landcorpinternational.com.