Learn a lesson from London – invest in land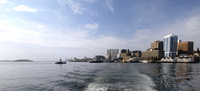 Property makes for a sound investment. Even during a market slowdown or correction, those with the nerve to buy and sit tight know the chances are they will come out on top in the long run. But what about investing in land? Buying a house or apartment – something concrete – at least offers tangible evidence of an appreciating asset. But if all you have to show for your outlay is an undeveloped piece of land, that healthy rise in value can seem a long way off. It's all a question of vision – and there's one shining example of long-term thinking which proves buying land can be the shrewdest investment of all – Canary Wharf.
Back in 1987, Olympia and York (O&Y) finalised a deal with the London Docklands Development Corporation (LDDC) to buy 20 acres of disused docks and warehousing at Canary Wharf in the city's East End. The Canadian company actually bought up 83 acres stretching alongside the River Thames but the 20 acres sold by the LDDC cost £20 million – or £1 million per acre. Twenty years on, an acre of land in Canary Wharf costs £7.9 million – an incredible increase of 790 per cent.
Then there's the rental potential for investors on the site. An Irish businessman last summer paid a staggering £1 billion for the 42-storey Citigroup European headquarters building. The rental yield is estimated at £4.5 million a year – considerably less than in The City – and this figure is expected to rise to market value in the next few years.
Canary Wharf has had its problems – notably during the 1990s slump, when Olympia and York was forced to file for bankruptcy as the British economy hit a low point. But O&Y's founders, the Reichmann brothers, returned in a new guise to oversee the revival of Canary Wharf later in the decade, as major players such as HSBC left The City to make the most of competitive rental rates on the Wharf.
The development itself continues to flourish. In the bad old days of the mid-Nineties, barely 10,000 workers were rattling around the vast area of offices and shops. Now there are well over 100,000 people on site every day, and that figure is expected to rise to almost 200,000 by 2016 as more and more companies abandon the traditional working areas of London and head out east.
Canary Wharf's remarkable story is proof that land investment can pay massive dividends. And while returns like that are beyond the reach of all but a tiny minority of us, there is scope for the lower-level investor to make a handsome profit.
One such opportunity is being offered by Landcorp International, which has half acres of land in a prime development location earmarked for the Forest Lakes Country Club near Halifax in the Canadian province of Nova Scotia.
The half acres are available for purchase at £12,300 apiece. Projections show the land will be valued at £40,000-£50,000 – between 200 to 300 per cent profit – once the developer is ready to buy back on securing planning permission – which is anticipated for 2010 or soon afterwards.
Investors will have an option – at a favourable rate – to buy into Forest Lakes with its different types of housing, full amenities and golf course.
A further incentive is that British investors can use a Self Invested personal pension (SIPP) to secure tax benefits.
For more information contact Landcorp International on info@landcorpinternational.com, visit landcorpinternational.com.